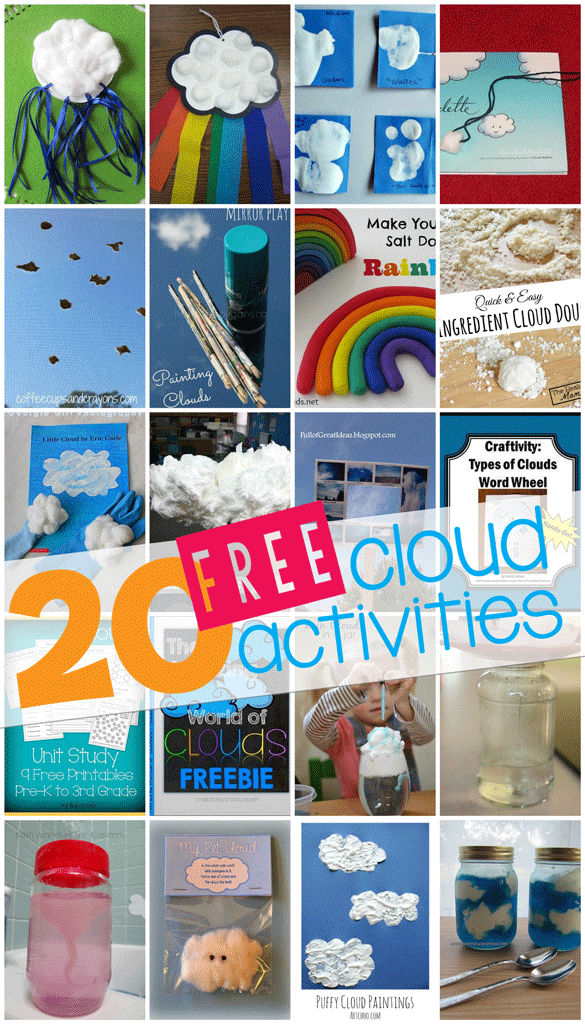 After our Cloud Unit Study we wanted more cloudy fun. I found 20 awesome cloud activities, experiments, and projects I wanted to share!
Here's my list of 20 FREE Cloud Activities:
1. Cloud Hunt Bingo from Green Grubs Garden Club
2. Cloud Dough from The Realistic Mama 
3. Glove Puppets from Love and Lollipops
4. Clouds and Rainbows from Story Time Katie
5. Make a Cloud in a Microwave from Falling Into First
6. Cloud Identification Tool from Full of Great Ideas
7. Salt Dough Rainbow by Learning 4 Kids
8. Clouds Word Wheel Craftivity from Promoting Success
9. Cloud Unit Study from Vanilla Joy
10. The Amazing World of Clouds from Traci Clausen
11. Fun with Cloudette from Teach Preschool
12. Painting Clouds from Happy Hooligans
13. Rain Cloud in a Jar from Growing a Jeweled Rose
14. Making it Rain from I Can Teach My Child
15. Weather Experiments Bath from Bath Activities for Kids
16. Pet Cloud from Rook No. 17
17. It Looked Like Spilt Milk Activity from A Mom With a Lesson Plan
18. Cloud Window Clings from My Little Bookcase
19. Puffy Cloud Art from Tiny Rotten Peanuts
20. Rain Cloud Ribbons from Family Education
That ought to keep us all busy for a while!