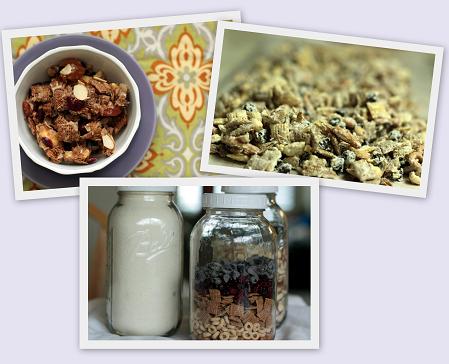 We've been hiking and camping quite a bit this summer, and I've found 3 easy and healthy snack recipes in a Betty Crocker cookbook I recently received to review (it's fabulous and I'll be giving it away in September) called Whole Grains. I'm working my way through this book and I'm loving it, especially the snack recipes.
Here are  3 of my favorites so far: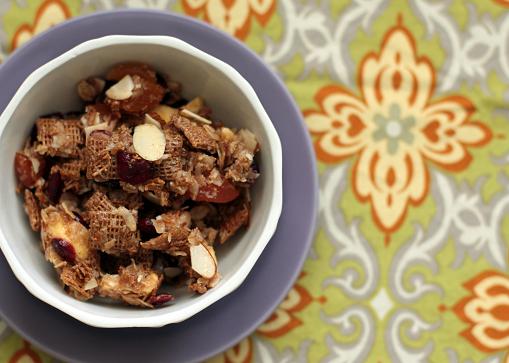 Take-Along Oatmeal Bars
1/4 c. sugar
1/4 c. butter
1/3 c. honey
1/2 t. ground cinnamon
1 c. diced dried fruit and raisin mixture (I use dried cran-strawberries)
2 c. Wheat Chex cereal
1 c. oats
1/2 c. sliced almonds
1. Heat sugar, butte,r honey, and cinnamon to boiling over medium heat, stirring constantly. Boil 1 minute, stirring constantly. Remove from heat and stir in dried fruit. Add remaining ingredients.
2. Press mixture into pan and cool about 30 minutes. Cut and store covered.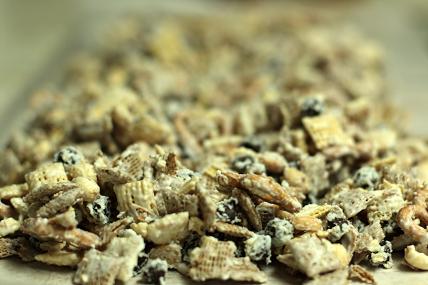 Vanilla Cereal Chunks
1/2 c. semisweet chocolate chips
1 c. Corn Chex cereal
1 c. Rice Chex cereal
3 c. Wheat Chex cereal
1 c. lightly salted dry-roasted peanuts
1 c. small pretzel twists
1 c. mini marshmallows
10 oz. vanilla almond bark
1. Put chocolate chips in freezer to chill. Mix cereals, peanuts, pretzels, and marshmallows.
2. Microwave almond bark in 30 second intervals until smooth.
3. Combine cereal mixture with coating. Stir in chocolate chips. Spread on waxed paper and cool 15 minutes. Break into chunks and store in airtight container.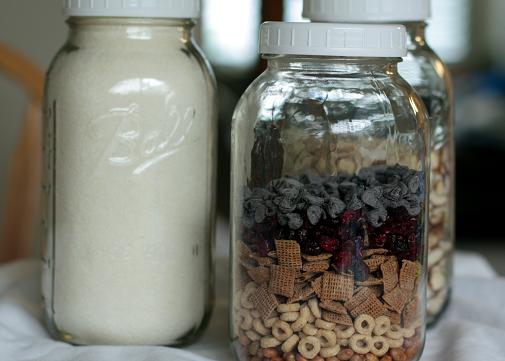 Hiker's Trail Mix
1 c. roasted soy nuts
1 c. Wheat Chex cereal
1 c. Honey Nut Cheerios cereal
1 c. craisins
1/2 c. chocolate chips or M&Ms
Mix all ingredients and store in resealable container.
These 3 snacks will keep everyone in your family happy on the trail or in the car!