For the first time in my 28 years, I am excited about Halloween and the month of October in general. My change of heart all started with a little prodding from the kids to make our house a bit more festive "like the neighbors".
Since I was just warming up to the whole Halloween thing, I opted to appease the children with some easy, inexpensive, paper decor and guess what?!? It all turned out way cuter and much more fun than I had expected.
I used cardstock and my Cricut and scissors. That's it! My kind of holiday decorating…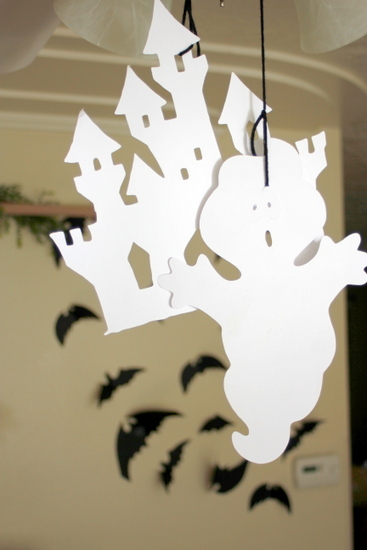 We hung ghosts (there was another that got ripped down by a rowdy boy) and a haunted castle from the ceiling fan. (from Paper Doll Dress Up)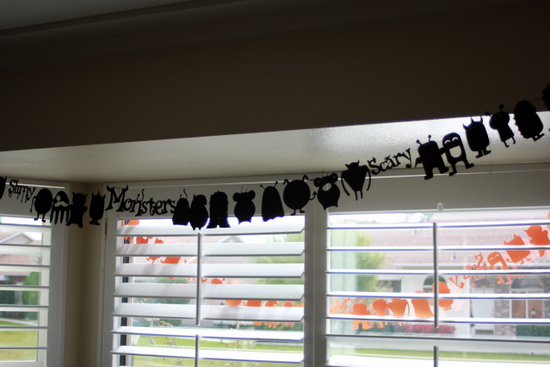 My personal favorite, a creepy, slimy, scary monster banner. (from Bump in the Night, best cartridge ever)
I cut about one of each monster out at 4″ and then sewed them together with black thread, leaving about an inch of thread in between each one. I love to look at all those adorable monsters!!!
I loved it so much in fact that I made one to hang in the window for our neighbors and passers-by to enjoy.
You're welcome.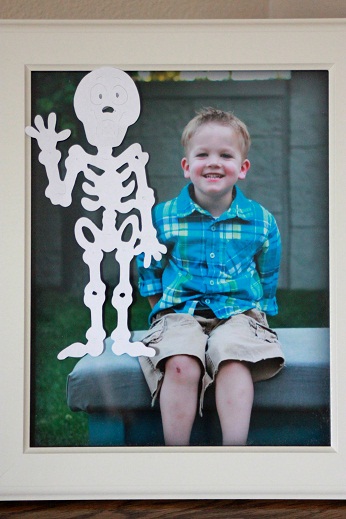 We have Bonesy. He moves around a lot – all the photos want a turn hanging out with him. (Paper Doll Dress Up)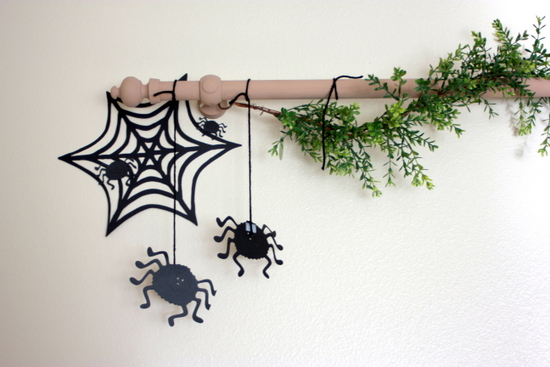 We have a giant spider web and some spiders (from Paper Doll Dress Up).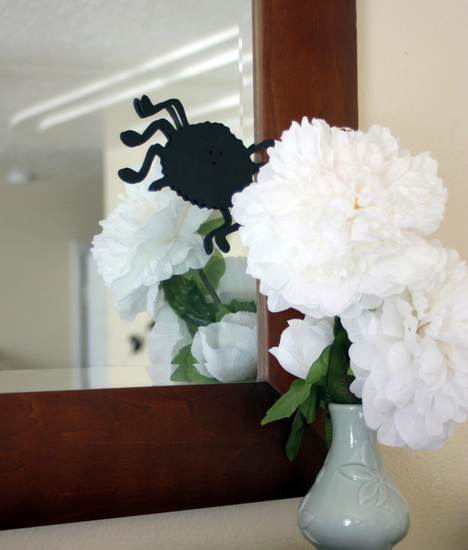 Oops, a spider got away…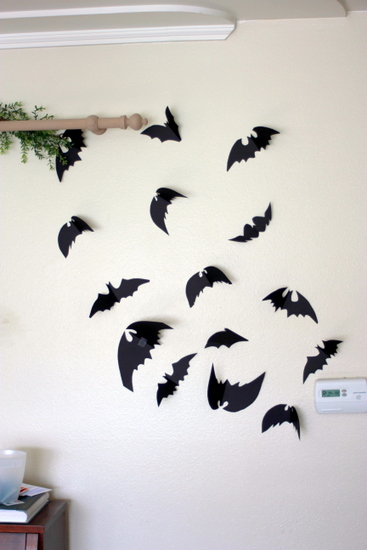 And bats! These were not as easy since I had to actually cut them out by hand, but Gus and Elliot had a great time slapping them up on the wall in no particular flight pattern arrangement. My overbearing and symmetrical (or at least balanced) instincts wanted to rearrange but I ceased and desisted. It's still driving me a little nuts…
Even though it's October 22 and there are only 9 days left until Halloween, it's not too late to do a wee bit of decorating!!