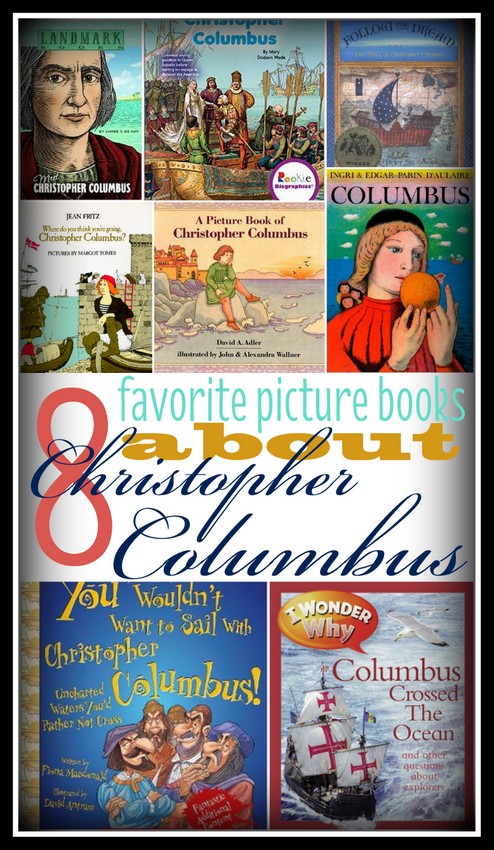 We're using The Story of the World curriculum for history this year (and forever because we love it!) and just finished up our study about Christopher Columbus.
We found several wonderful books about him I wanted to share with you!
Some of these are chapter books, some are easy to read picture books, and others are more detailed, information dense books but still with lots of pictures.
They're all wonderful and we've enjoyed reading them together:
1. Meet Christopher Columbus (Landmark Books)
– this is in the Landmark Books series, a great series for young readers.
2. Christopher Columbus (Rookie Biographies)
– this is another book in a great series for young readers.
3. Follow the Dream: The Story of Christopher Columbus
– beautiful illustrations, great for a read aloud or independent reading.
4. Where Do You Think You're Going, Christopher Columbus?
– Jean Fritz writes all kinds of historical books like this. They're full of great information but are very dense so probably best to do this one as a read aloud.
5. A Picture Book of Christopher Columbus (Picture Book Biographies) (Picture Book Biography)
– lovely pictures, easy reading
6. Columbus
– Ingri and Edgar D'Aulaire have written a handful of historical books like this one and they are the most beautifully illustrated books I've ever seen. We have this one and a few others and will collect them all. The story telling is wonderful, interesting, entertaining, informative, and the illustrations are really magnificent.
7. You Wouldn't Want to Sail With Christopher Columbus!: Uncharted Waters You'd Rather Not Cross
– Fiona Macdonald writes this series, "You Wouldn't Want To…" and my 2nd grader has enjoyed every one we've gotten. They are information dense, but the information is presented in small chunks with lots of pictures so it's manageable and fun to read.
8. I Wonder Why Columbus Crossed the Ocean: and Other Questions About Explorers
– Another great series! The "I Wonder Why" books are similar to the Macdonald books – lots of information alongside lots of pictures so really action packed and fun to read.
That oughtta keep you busy for a while! Even though these are all about the same person, I would read them all – they're wonderful. ENJOY!