Well, everyone, he's here! 9 months is such a long time to be pregnant, but it's over and this is what I got out of the deal: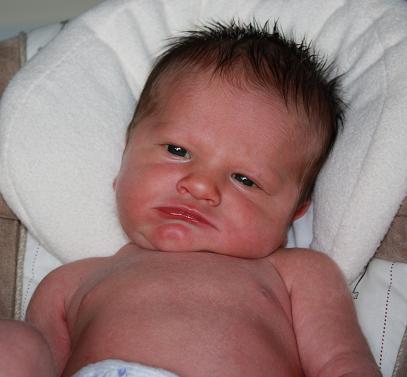 Isn't he adorable? He's 5 days old here, and looking very thoughtful about something. Probably milk…or sleeping…
Our second son was born Sunday, May 17 at 7:31 pm. My labor was relatively short and my unmedicated VBAC was successful! To all you who want to try a VBAC, go for it. And going natural isn't too bad either…a bit painful, but nothing you can't handle!
The first week was pretty rough, as usual, especially since I had some problems with my milk/breastfeeding – My milk doesn't come in really fast and strong. It happens slowly over several days, and my supply starts out pretty low at first. I'm assuming it will get better – it did with my first. Over several trips to the pediatrician and lactation consultant, here's what I've learned about breastfeeding:
Low thyroid will kill your milk supply (not my problem, but I almost wish it were…)
Taking 3 capsules of Fenugreek 3 times a day can help increase your milk supply (anecdotal evidence only)
Some lactation consultants say drinking pineapple juice helps your milk come in
A lactation syringe is a life saver! I used one of these to supplement my milk with formula without having to use a bottle
An electric breast pump is also a life saver! I have the Medela Swing and it is awesome
If you have a low milk supply, sometimes the only solution is to nurse all day long
I'm still trying to increase my milk supply and supplementing once or twice a day in the meantime. I have always been pretty anti-formula and I never thought I would have to give it to my baby, but the most important thing is that he gets enough calories to grow like he should.
So things are going okay now, and we're just so excited to have this new little person in our family! I'm going to try to keep posting as usual, but things might slow down a bit for a while. I'm sure you understand…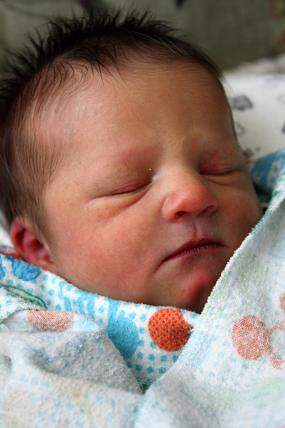 (2 days old)