I received the AccuQuilt Go! Baby for review about a month ago and I am so in love with it. Just watch the video…you'll see why!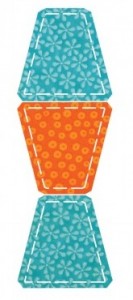 Along with the machine, AccuQuilt sent me the  3 1/2″ tumbler die and the 2″, 3″, and 5″ hexagon die. I broke my Go! Baby in with a little tumbler quilt and this machine is brilliant!
I was able to cut the hundreds of tumbler shapes in about 2 hours, and the only reason it took this long is because I had to prepare the strips of fabric to go through the machine and take time to line up all the edges just right.
I did 6 or 7 layers of fabric at a time, and it took me probably 10% of the time it would have taken to do it all by hand. I'm a busy woman, and the Go! Baby allowed me to make a somewhat complicated quilt very quickly.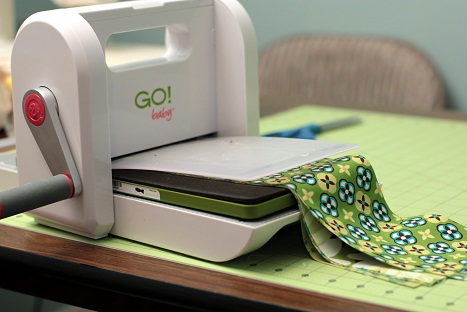 The process is so easy and SAFE! Here's how you cut fabric with the Go! Baby:
Cut strips of fabric just wider than the die – several at a time, up to 7 or 8
Line fabric strips up evenly and lay on the die so that the lengthwise grain of the fabric runs straight down the center of the die shape
Place the cutting mat on top
Send it on through!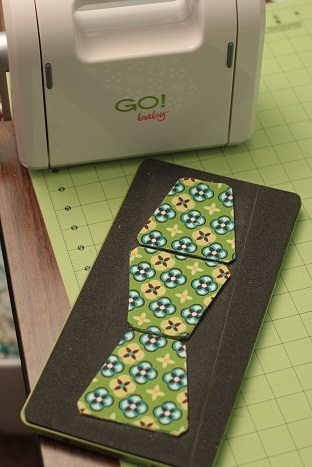 Because the tumblers are positioned on the die at an angle I drew a little chalk line down the side so I could make sure my fabric was straight and completely covered the die. The black you see on the die is a foamy surface and the chalk is still visible even after tons of use.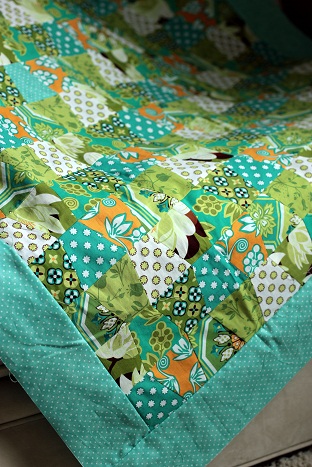 Here she is! I used Michael Miller's Ginger Blossom line, and instead of spending 20+ hours cutting out tumbler shapes that would not have been exactly uniform in size, I got it all done in 2 hours with perfect corners and completely straight edges.
The Pros of the Go! Baby for me are:
speed
accuracy
ease of use
safety
The Cons:
The machines and dies are pricey, but how much is your time worth? When I think about it that way, it's totally fair, especially if one does quite a bit of quilting. (And you can get the Go! Baby on Amazon for less than $100, so it's really not too bad.)
The best Pro for me is the accuracy – a quilt is only as beautiful as its pieces are uniform, and nothing can beat AccuQuilt on accuracy.
My next AccuQuilt project will be a hexagon quilt. I'm a little nervous for the sewing, but cutting is going to be a breeze!
Thanks to AccuQuilt for sponsoring today's review!