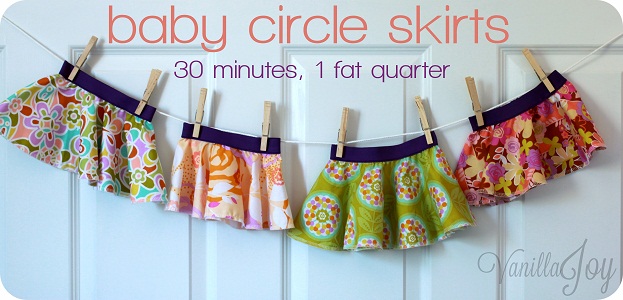 Lately I am not so good at coming up with new and brilliant patterns and projects. I'm not sure I've ever been good at that…but I am LOVING working up some of my favorite blogger's projects like this one from Dana at Made. She is one of my favorite bloggers ever. She is who I want to be when I grow up, if you don't read her blog every day you oughtta start. Today. She is awesome. I bought her book. One for me and one for my mom – Happy Mother's Day to us!
I love so many of her tutorials, and I recently had a reason to make these adorable little circle skirts for a baby shower gift. I want a daughter.
Check out Dana's tutorial – it's way better than this one and also includes instructions for an adult circle skirt (I've made two) and dyeing elastic. Awesome. But here's my own take on the project, just for fun: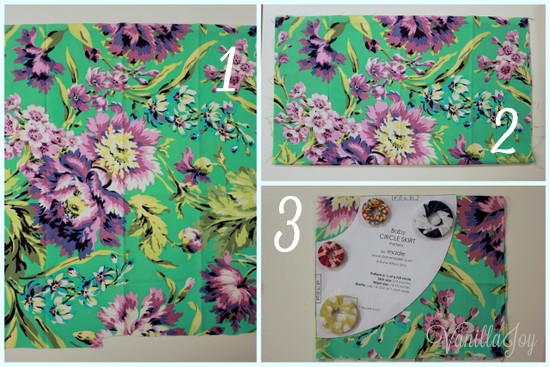 1. Pick a fat quarter and lay it out flat on the table.
2. Fold in half, selvage to selvage (only there will only be one of those since it's a FQ).
3. Fold in half again so the fabric has two folded edges adjacent to each other. Print off Dana's baby circle skirt pattern, slap it on that fabric with some pattern weights, and cut it out!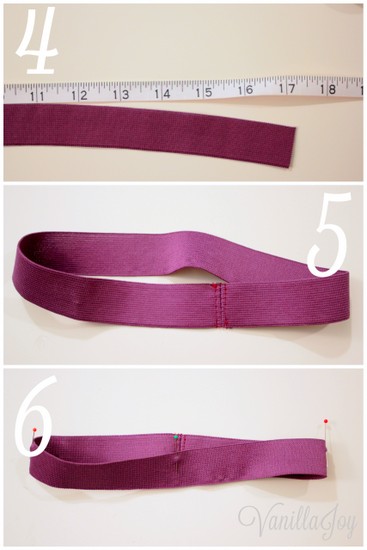 4. The pattern is a 0-3 month and says to use 14-15″ of elastic. I made the skirt as long as the fat quarter would allow to fit more like a 12 month old, so I cut 17.5″ of elastic. You can make this whatever size you want – if it's for a bigger child, make it longer and cut the waist circle 1/4 – 1/2″ bigger.
5. Sew the elastic into a tube using a stretch needle and stretch stitch and then sew the raw edges down so they don't flap about.
6. Mark the elastic waistband into quarters with pins.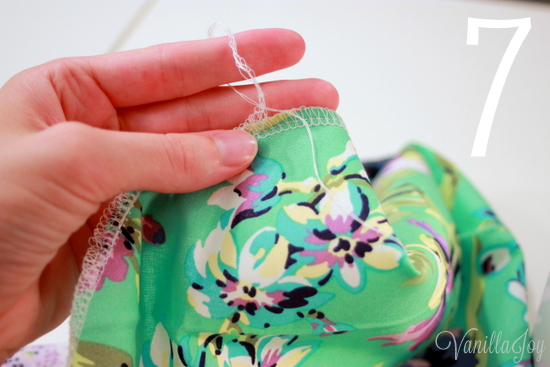 7. Serge the raw edges of both the hemline and the waistline, tie a knot in the serger thread and clip close to the knot.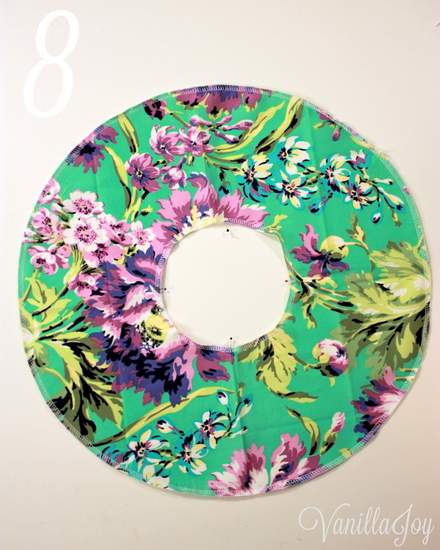 8. This is what you should have so far – a donut with serged edges. Mark the waist circle into quarters with pins also.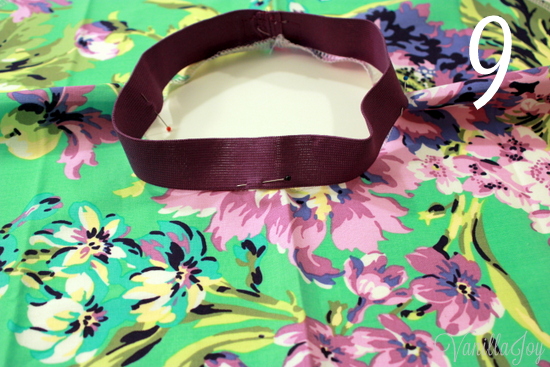 9. Match up the marks on the elastic waistband to the marks on the skirt waistband with the wrong side of the elastic to the right side of the skirt. The bottom edge of the elastic should run right along the bottom edge of the serging.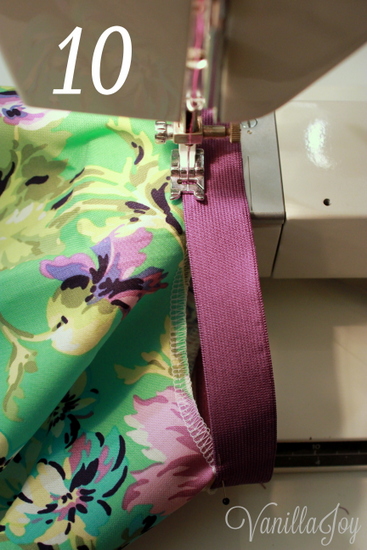 10. Using a stretch stitch and a stretch needle, line the bottom edge of the elastic up with the inside left edge of the presser foot so the line of stitching is about 1/8″ away from the edge of the elastic.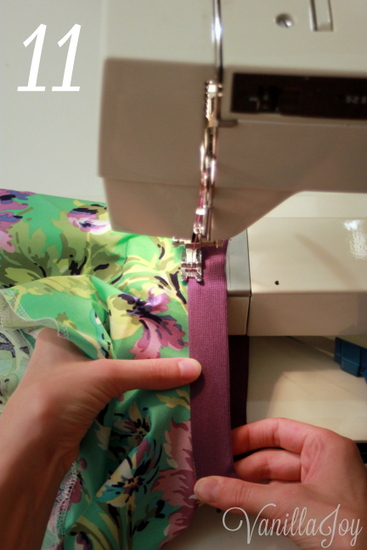 11. Start sewing at the center back seam (where you joined the elastic into a tube). Grab the second pin (you should only have four total) with your right hand and grab halfway between the presser foot and the next pin with your left hand.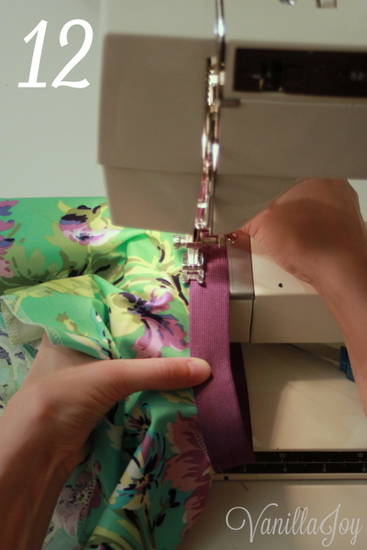 12. Keep your left hand where it is and move your right hand around behind the presser foot. Stretch so the elastic is the same length as the skirt between your thumbs and sew until you get to the second pin. Repeat steps 11 and 12 until you make it all the way around.
Hopefully my tutorial was clear…if not, check out Dana's. It's awesome and so are these adorable little skirts! I can't wait to have a little girl of my own someday (I hope, I hope, I hope…) and use up the rest of my fat quarters I've been saving for something special…
Happy Sewing!