{We have our winners! They are
washPOD Winner – Julia Chandler
bebePOD Plus Winner – Sarah Johnson
Silicone Bottles Winner – Jen Christensen
Congratulations to you three! Email your address to kelsey[at]vanillajoy[dot]com to claim your prize. Thanks Prince Lionheart!}
THE PRIZE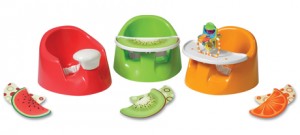 One reader will win a package of 3 8-oz. Prince Lionheart silicone bottles ($28), a second reader will win the Prince Lionheart washPOD ($25), and a third reader will win the Prince Lionheart bebePOD Plus ($60)!

MY REVIEW
SILICONE BOTTLE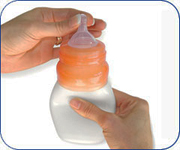 I'm breastfeeding my baby, but that doesn't mean we don't use bottles, and finding a good bottle that mimics breastfeeding and doesn't give baby a bunch of gas is hard. We like these bottles from Prince Lionheart because they're BPA free and made from silicone, which is a material that doesn't harbor bacteria.
The best part about these silicone bottles is that because they are soft and kind of squishy, you can squeeze all the excess air out before feeding baby. Put milk in the bottle, pinch the nipple and squeeze until the milk reaches the top of the nipple. There's no extra air left in the bottle to get into baby's stomach, thus reducing gas and colic. It's brilliant!
washPOD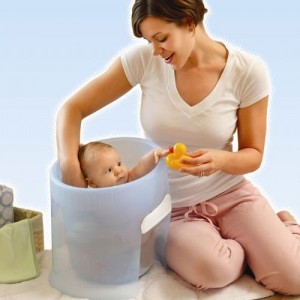 Bath time for newborns is a huge pain. My son screams almost the entire time, probably because he's cold! The Prince Lionheart wasPOD is a great baby tub option because it allows your baby to be under water up to his neck. It's tight quarters, but that's kind of the point – the washpod resembles the womb as closely as possible. Baby is confined to a small, warm place, and he loves it!
The washPOD is recommended for babies 0-6 months, but I think it works lots better once baby can hold his head up. It is a little bit tricky to hold him up in there, but if you put your arm along baby's chest and then curve your hand around to his back so his head can rest on your forearm, it works pretty well. The best part is that he's not freezing cold, so he doesn't scream!
And the bebePOD is one of my favorite baby products because it allows babies to sit up before they're able to do it on their own. The spongey, rubbery feel makes the chair comfortable for baby's soft bones and the design is such that it actually helps strengthen those sitting muscles to get them ready for independent sitting.
The bebePOD infant chair is small so you can carry it with you wherever you need to go. We love to put it on the kitchen table so baby can be right there with us at dinnertime
The PLUS comes with an attachable tray – simply replace the white pommel with the tray and the bebePOD can now keep your child stationary and happy for hours! This is a serious lifesaver for anytime you need to get something done around the house. All you need is a flat surface to set it on and baby will happily sit up and play and let you do what you need to do.
Thanks to Prince Lionheart for this these 3 great products!
GIVEAWAY RULES

Visit PrinceLionheart.com.
Come back here and tell me your favorite product before midnight Thursday, July 23.
A winner will be selected and announced at the top of this post Friday.
Only one comment per person unless you earn extra entries.
Giveaway open only to residents of the continental United States…sorry.
EARN EXTRA ENTRIES
You may earn 1 extra entry each for doing the following (make a separate comment for each thing you do):
Follow me on Twitter
Tweet about this contest with link back here (copy and paste http://www.vanillajoy.com right into the text box)
Subscribe to my feed
Sign up for my newsletter
Add my button to your sidebar
Comment on any non-contest post (must contribute to the conversation)
Facebook about the contest
GOOD LUCK and THANKS, Prince Lionheart!