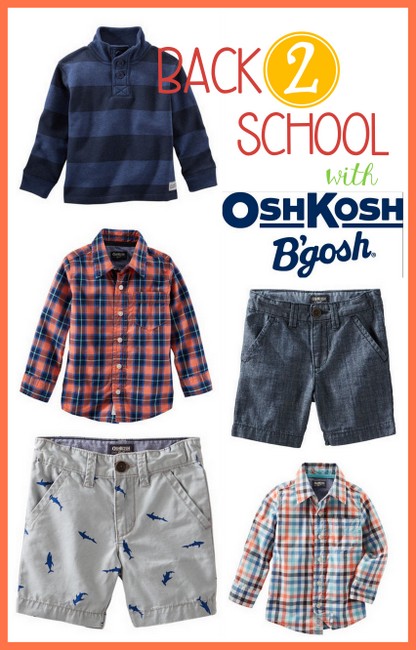 "I participated in a Influencer Activation on behalf of Influence Central for OshKosh B'Gosh. I received a promotional item to thank me for my participation."
The Back-to-School season is one of the busiest times of year for our family. We're trying to cram the last few days and weeks full of summer fun – camping, swimming, hiking. playing with friends – AND get ready for school to start too.
My boys are getting older and I'm getting a little smart (about some things anyway…) and learning how important quality has become in our clothing purchasing. My boys play hard and they need good quality clothing that can keep up with them. OshKosh is the perfect solution for my hard-wearing boys. The clothes are comfortable, easy to care for, high quality, and reasonably priced.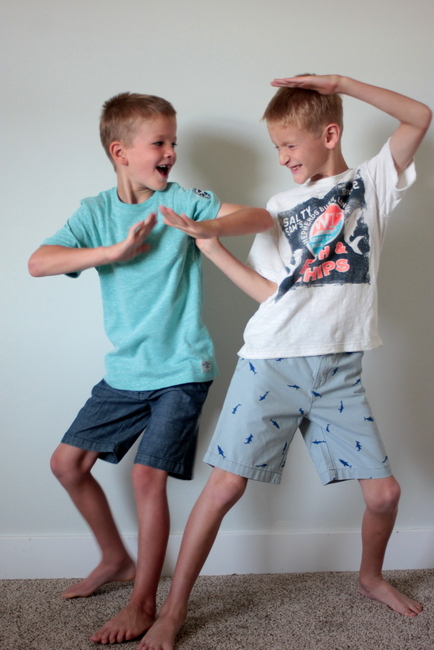 We hit our local Osh Kosh to get ready for school and picked up some things to replace what my boys have grown out of and worn out since last year's school shopping sprees. We were needing some new t-shirts and shorts (of course) and some nicer woven shirts. I found just the perfect thing at OshKosh – great colors, prints, patterns, and quality.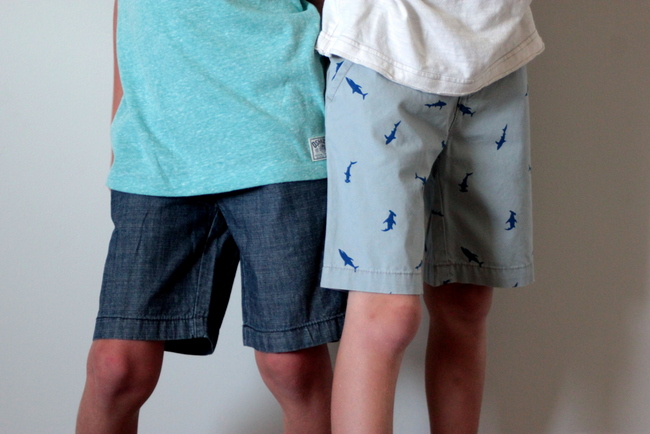 The shorts were my favorite find – the little chambray shorts are adorable, soft, and comfortable, perfect for Gus's energetic personality. And sharks! If you look closely you'll notice there are several different kind of sharks on there. We'll have to pull out our shark book and see if we can identify them.
And this fall, B'gosh Blue Jeans are back! We go through blue jeans like breakfast cereal, and the blue jeans are better than ever with four different styles and plenty of color variations.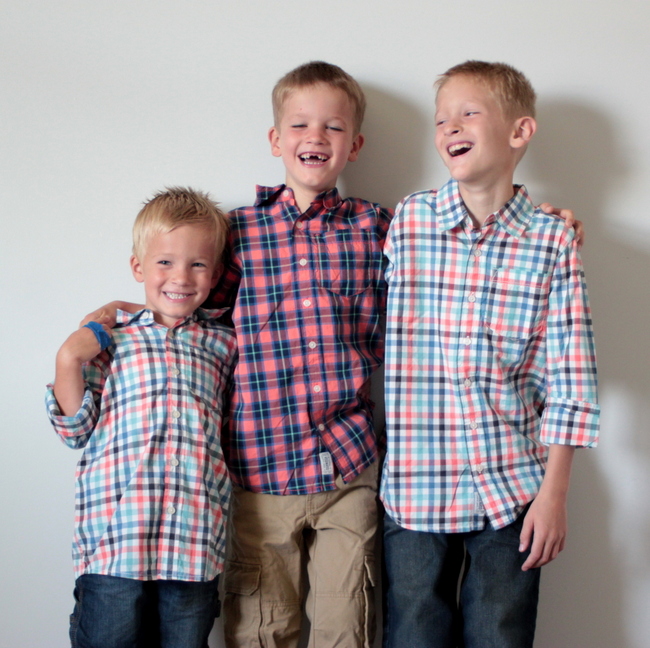 OshKosh is also getting ready for school with lots of options for today's active lifestyle: modernized, bold, fun, and fashionable. Be on the lookout for the newest big ideas from OshKosh this season – Blue Jeans, World's Best Overalls, and their new black, white, and indigo collection. I can't wait!

Besides those great new trends, OshKosh B'gosh is launching the "B'gosh Jeanius Campaign"  so all kids can have what they need for school. They're partnering with K.I.D.S./ Fashion Delivers, Inc., and DonorsChoose.org to give customers the chance to donate a new pair of jeans or make a cash donation to students in need this school year.
All denim donated from July 28 through September 16, 2015, will be delivered to local children in need through K.I.D.S./Fashion Delivers. Cash donations will be dispersed to local DonorsChoose.org. AND the Carters Charitable foundation will match all cash donations up to $50,000 and all denim donations with a new item of clothing.
Join the Jeanius Campaign  and do some good – donate a new pair of blue jeans or make a cash donation at the register!
OshKosh B'gosh has everything you'll need this back-to-school season – jeggings, moto jackets, layering basics, and glow-in-the-dark graphic tees. You'll find great designs, quality materials, and trendy fashions to start this school year off right!
Locate a store near you to shop and donate AND keep up with new arrivals and trends on Facebook and Twitter.
Before you shop, click on the coupon and print a larger version for an extra 25% off a purchase of $30+. You're welcome!