If you're staying home for Valentine's Day, tune in this week for some great dinner ideas! This first one is so delicious with plenty of Fancy Potential and it's super easy. The recipe is from the America's Test Kitchen cookbook…it's fabulous!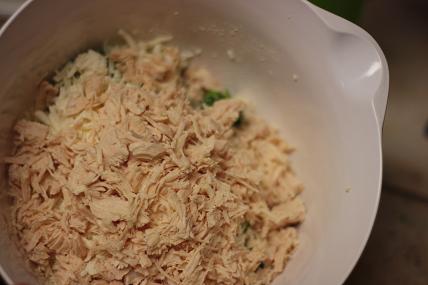 I used some of my canned chicken and it was delicious and just that much easier.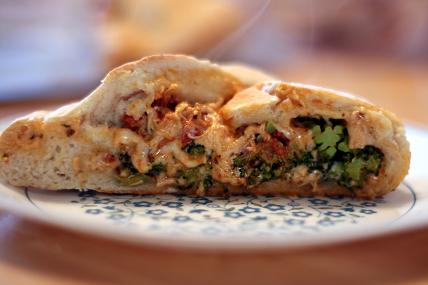 America's Test Kitchen Easy Chicken Calzones
Basic Pizza Dough
4 1/4 c. bread flour
2 1/4 t. instant or rapid-rise yeast
1 1/2 t. salt
2 T. olive oil
1 1/2 c. water, warm
1. Mix 4 c. flour, yeast, and salt in a food processor ( I use my Bosch mixer) until combined. With the processor/mixer running, pour oil and then water in until a rough ball forms, 30-40 seconds. Let dough rest for 2 minutes, then process/mix for 30 seconds longer.
2. Knead dough by hand on a floured surface, about 5 minutes. Transfer to a lightly oiled bowl, cover with plastic, wrap, and let rise in a warm oven 1 to 1.5 hours.
Filling
20 oz. frozen broccoli spears, thawed and chopped
1 lb. shredded mozzarella
2 c. chopped cooked chicken
1/2 c. pesto
salt and pepper
flour for the counter
1. Heat oven to 450 degrees. Pat broccoli dry then toss with mozzarella, chicken, and pesto. Season with salt and pepper to taste.
2. Roll out half dough on a floured surface to a 12-inch round, about 1/4 inch thick. Mound half the filling onto one side of the dough, leaving a 1-inch border along the edges. Brush the edges of the dough with water. Fold the other half of the dough over the filling and press the edges to seal. Repeat with the remaining dough and filling.
3. Transfer calzones to an oiled baking sheet. Cut 5 slits diagonally across the top of each. Brush oil over the tops and sprinkle with course salt. Bake until golden, about 15 minutes.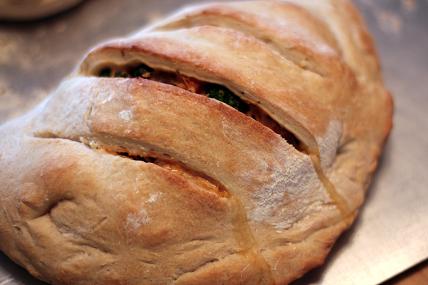 With some steamed vegetables and a fancy salad, calzones are a perfect main course for your romantic Valentine's Day dinner. This is what we're having!