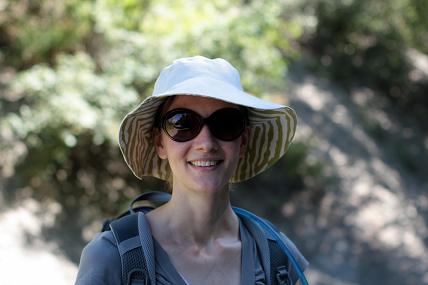 I've been on the search for a perfect sun hat pattern and I finally found it in a great little sewing book called Craft Challenge: Dozens of Ways to Repurpose a Pillowcase.
Because it's in a book, I can't very well give you the pattern here, although I wish I could because I know you would love it! I used one of my husband's too-small button up shirts for the outside and a green zebra stripe home decor fabric from JoAnn for the other side. It took me an evening to make and I LOVE wearing it!
Some tips for making a good quality hat:
look for a brim that's not too tall so it sits up above your ears
clip and notch both seams
press, Press, PRESS!!! Pressing curved seams is tough, but it must be done. Use a tailor's ham and take some deep breaths.
use interfacing on both brim pieces
edge stitch around the outside of the brim a few times in concentric circles to give it a nice finished look
Since I can't give you my pattern, here are some other sun hat patterns I found in blog land. Enjoy!
Toddler's Fluted Edge Hat
Toddler Sun Bonnet
Simple Baby Sun Hat
Reversible Sun Hat
Blue Sky Sun Hat
Boys Sun Hat
40s Sun Hat
Child's Reversible Flap Hat
Simple Toddler Sun Hat