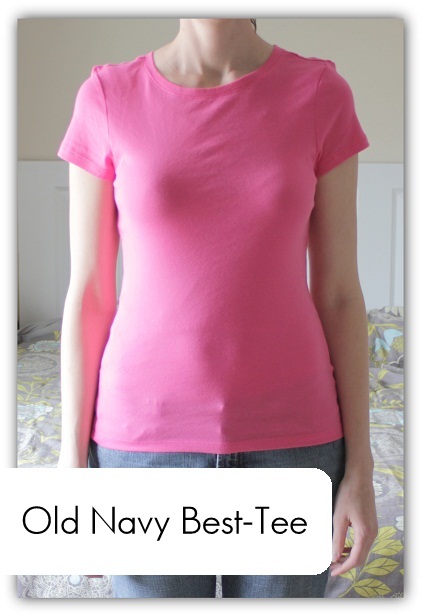 I am a T-girl all the way.
My closet is filled with solid colored t-shirts and I find myself going for them again and again. They're comfy, practical, versatile, and I can be a mom and do all the mom things I need to do.
I have tried lots of different brands of tees, and I have lots of favorites. The Best-Tee has officially made it on the favorites list!
Old Navy sent me this Avenue Pink Best-Tee just in time for Easter and Spring! This is my first time trying the Best-Tee and I love how it fits – it's long enough and the sleeves are just as fitted as I like them.
Best-Tees are made from a 60/40 cotton/poly blend which holds its shape much better than straight cotton. It's also softer, a little thinner, and more form fitting. I love me a good 60/40 blend.
The Best-Tees come in crew or v-neck, short or long sleeved, flat-front, ruched or shirred, and a handful of great colors – all the variations I need for a perfect tee.
They're available in a similar variety of styles for men and kids and in a wide range of sizes including up to 4x for women, 3x for men, husky and slim for boys, and plus and slim for girls.
And priced $8.50 – $22.94, you can afford to stock everyone's closet!
If you don't believe me, maybe you'll listen to Mr. T.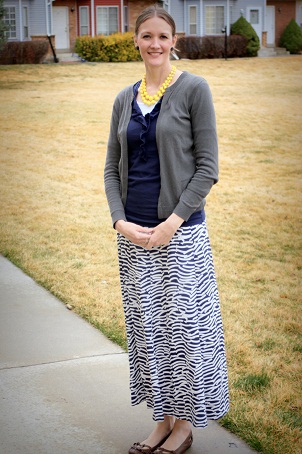 ALSO, about 6 months ago I discovered Old Navy's Tall collection, available only online. My wardrobe has drastically improved since that blessed day.
I can finally find skirts, dresses, jeans, coats, jackets…These are the clothing items I struggled to find before. For the first time in my life I have jackets and coats with long enough sleeves. I feel like a normal person!
My outfit here is almost exclusively Old Navy – skirt, ruffle top, and cardigan (sweater turned cardigan actually). Do you see how the skirt actually falls to right above my ankle where it's supposed to?!? And my top is plenty long. Love. It. So. Much.
Tops haven't been as much as bottoms (pants and skirts), so I have really gone a little nuts. Here are my most recent favorites from OldNavy.com: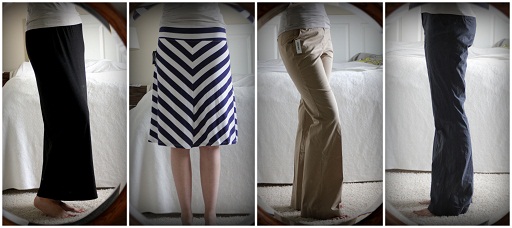 Do you see the length?!? I have a 37″ inseam, and everything from OldNavy.com's Tall section fits my longness perfectly.
All I'm saying is…Best-Tee, Online Tall, it's all fantastic and Old Navy is getting all my clothing budget these days!
"I wrote this review while participating in a blog tour campaign by Mom Central Consulting on behalf of Old Navy and received a product sample to facilitate my review, and a promotional item to thank me for participating."