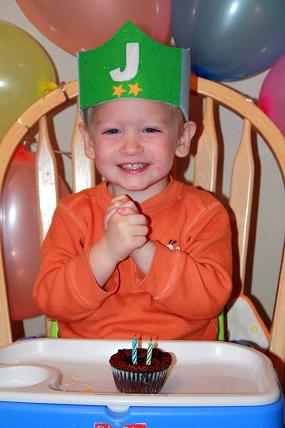 I usually have all sorts of intentions before special occasions – I want to do all these fun things but never get around to it. This year I finished BOTH the birthday banner AND a birthday crown for my son BEFORE his actual birthday! I think I managed it because both projects were super easy and lots of fun.
Here are some basic instructions so you can make a personalized birthday crown for each of your children!
Tools & Materials
Felt in 3-4 different colors (at least 17″ x 5″ each). I used the cheap stuff because they had better colors, but wool felt is higher quality.
10″ of 3/4″ – 1″ wide elastic
scissors
sewing machine
templates and/or embellishments
1. Cut out the pattern pieces from as many different colors of felt as you want.***
2. Decorate and embellish the front piece with glitter, sequins, stars, letters/words. (I did a reverse applique for the J by cutting the letter out of the front piece and letting the back piece show through to the front. I also hand sewed 2 felt stars on for how old he is. We'll add 1 star each year.)
3. Edgestitch the front piece to the back, leaving the ends open.
4. Measure your child's head to see how much elastic you need.
5. Insert the elastic into the ends of the crown and sew all 3 layers together (elastic between 2 felt layers).
All done!
_________________________________________
***If you want a solid front, use the back pattern piece (page 1 in the downloadable pattern) for both the back and front. Otherwise, follow the directions on the pattern and sew each of the 3 front pieces to the back piece.
{Pattern adapted from the one found in Amanda Soule's book, The Creative Family.}