A few weeks ago I asked for some help with birthday traditions, and so many of you submitted some great ideas in the comments. I wanted to share with everyone what you shared with me, so here are some great ideas for birthday traditions: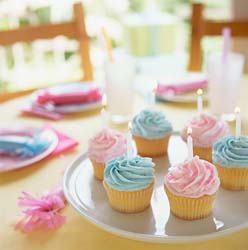 The birthday fairy visits to decorate the table and birthday child's chair and to leave special gifts. (Christie)
Make a video asking the birthday child questions about themselves.
The birthday child gets to use fancy celebration dishes for their birthday dinner. (Catherine)
Make the birthday child their favorite meal and take them to their favorite restaurant. (Susan)
Get balloons for how old they are. (Liz)
Take a birthday photo with the number/age they're turning somewhere in the picture.
Take a picture of child every year on their birthday with a favorite toy or stuffed animal to see how they've grown. (Cindy B)
No chores for the birthday child!
Let the birthday child plan all 3 meals for the day. (Eisbeckers)
Plant a tree on their first birthday and take a picture next to it each year to mark growth. (Kathleen)
Around the dinner table, tell the birthday person something you appreciate about them. (Angel S.)
Mom bakes the cake, Dad and birthday child decorate it together the night before the birthday.
The birthday child gets to use a special birthday plate for each meal that day. (Jen T)
Have a birthday treasure hunt with little gifts along the way. (Cristina)
Make a handmade birthday gift each year. (Julie B)
Record child's height on the wall each year on his/her birthday, and make hand and footprints. (Baba)
Take a picture of child holding a sign with their age on it and measure them against the wall. (Tammy B)
Breakfast in bed. (Kim)
Take a family picture. (Danielle)
Beginning with their first birthday, make a time capsule and add things every year to be opened on their 18th birthday. (Meshellyn)
After dinner, cake, and presents, play the birthday child's favorite game together as a family. (Kelsey)
Take a picture of the birthday child in one of Dad's shirts to see growth over the years. (Kelsey)
Write a letter to the birthday child telling them what they are like at that age. (Kelsey)
Tell the birthday child his/her birth story.
With all these great ideas to choose from, you can pick your favorites and make birthdays in your family special and unique. Traditions are so important, and it's never too late to start a new tradition, so get started! Thanks for all the great ideas!