So I live in Utah County, Utah. Most of the time, if you want to do something cool or eat at a fabulous restaurant, you have to go to Salt Lake. No longer, my fellow Utah County-ans, because a new restaurant is now open in Highland, and you really should go there because it's delicious, different, and delicious.
It's called Blue Lemon Bistro, and it's located at 11073 North Alpine Hwy in Highland, right next to this new quilt shop that I'm dying to peruse…An afternoon of Blue Lemon food and beautiful fabric would make me very happy, I'm sure…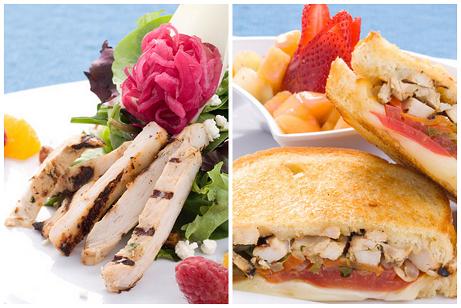 I had the raspberry chicken salad (left) and the grilled balsamic chicken panini (right). Both menu items were fabulous, perfectly prepared, and reasonably priced. And there are so many more things on their menu I have to try, like the lemon chicken alfredo, lemon-lime grilled chicken blt. I love lemon.
The whole idea behind the restaurant is that everything on their menu is as fresh and healthy as possible. It's my kind of healthy; fresh, natural food that tastes really really good.
I loved the whole setup of the place as well – you order your food at the counter and then wait for the servers to bring it to you. I like it this way because you don't have to tip (hehe…) and it feels much more casual and family friendly.
And most of the tables were round. There were some smaller squarish/rectangular ones in the center, but the big tables were round with these high-backed benches going all the way around, making you feel like you're in your own little world. I love a round table with a big group because you can see and talk to everyone rather than just the person sitting in front of you. Round tables are so much better, I would go there again just because of that!
And if you're not convinced you need to try out Blue Lemon, they have lots of great smoothies and drinks, including Blue Sky Soda. I'm not a big soda fan, normally I hate any kind of carbonation, but the Wild Raspberry Soda I had at Blue Lemon was excellent. I drank way too much and had to go to the bathroom even more than normal…
So the food is superb, the drinks are light and tasty, the prices are reasonable, the environment is casual and fun, and I can't wait to go back!