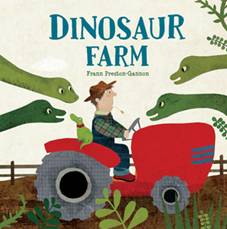 It's hard work being a farmer and even harder running a dinosaur farm – but that's just what the farmer does every day in this new book by Frann Preston-Gannon!
The farmer wakes up very early to take care of all his animals and you find out pretty quick that all the animals on his farm are actually dinosaurs. It's very silly, the kids love it!
All kinds of unexpected things happen to the Farmer as he goes about his day on the farm. He has some unusual chores and some that are just…bigger…
My kids LOVE this silly book – they love dinosaurs and all the things the farmer does to take care of his animals makes them laugh and laugh.
The artwork in this book, also by Frann Preston-Gannon, is wonderful. The colors are vibrant and she uses lots of interesting textures and patterns to make the story come alive.
Dinosaur Farm is available this month from Sterling Children's Books so watch for it in bookstores – your kids will love it!
{I received a copy of this book free of charge from Sterling Publishing to facilitate this article.}