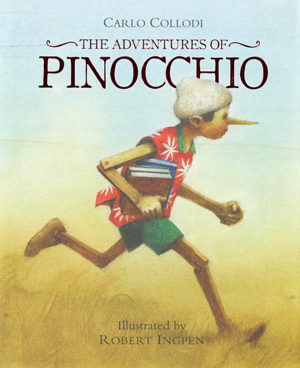 We've been working our way through children's classics each night before bed time. It's a wonderful way to end the day as a family enjoying fabulous literature together.
We're reading Pinocchio by Carlo Collodi right now and this edition, illustrated by Robert Ingpen, is my all-time favorite (published by Sterling Publishing). It's a beautiful book with thick, heavy, luxurious pages and wonderful illustrations. There are many full page illustrations as well as smaller partial page ones.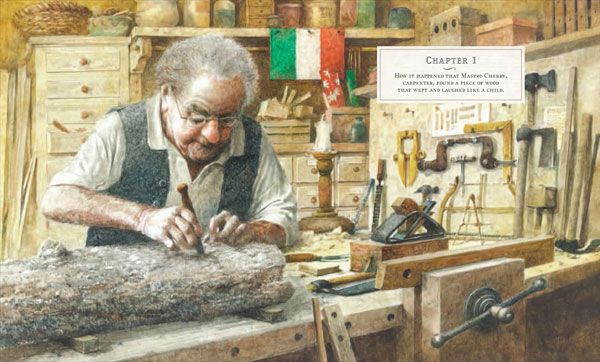 My boys insist on sitting next to me while we read rather than laying in their beds as I would prefer because they don't want to miss a single illustration (like this one) and I really can't blame them.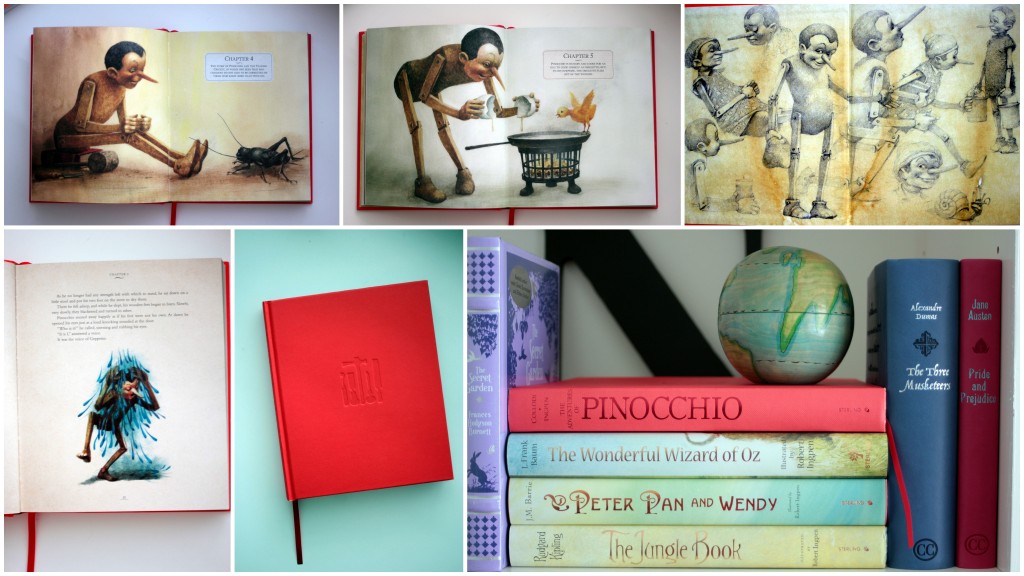 This is a fantastic story for children – my boys are 7 and 5 and they are both enjoying it so much. It's an exciting and moral story with lots to talk about and apply. I find reading stories like this one makes my job easier as a parent – it introduces some heavy topics that might be difficult to bring up in a casual, non-lecturing  way like avoiding peer pressure, being honest, working hard, caring for others, etc.
Besides being a great conversation starter between parents and children, there are lots of applicable supplemental activities that can make reading it together even more fun.
Lapbooking/Book Activities
Chapter 1
Read the description of Mastro Antonio (page 10) and draw his portrait
Carve something out of play-doh
Chapter 2
 Read the description of Geppetto (page 14) and draw his portrait
Talk about dreams – Geppetto wants to make a beautiful Marionette and go around the world to earn money – what is your dream?
Chapter 3
Chapter 4
Read a few books about crickets – The Very Quiet Cricket by Eric Carle, Quick as a Cricket by Audrey Wood, and/or Chirping Crickets by Melvin Berger
Go to the pet store and observe live crickets
Enjoy this wonderful Cricket Lapbook
Watch some cricket videos
Chapter 5
All Chapters
Keep a running list of new/interesting vocabulary words: ex. solemn, insult, tumbledown, marionette, charitable
Write a summary sentence at the end of each chapter
Write down each lesson or moral Pinocchio learns and make a Book of Virtues. Ex. "Woe to boys who refuse to obey their parents and run away from home. They will never be happy in this world and when they are older they will be very sorry for it" (from chapter 4).
At the end of the book
Watch the movie and identify what was the same and different between the book and the movie. Write down what you come up with on this Venn Diagram
I'll be adding more activities to go with the rest of the chapters in the book as I have time, so check back soon!
{I received a copy of this book free of charge from Sterling Publishing to facilitate this article.}