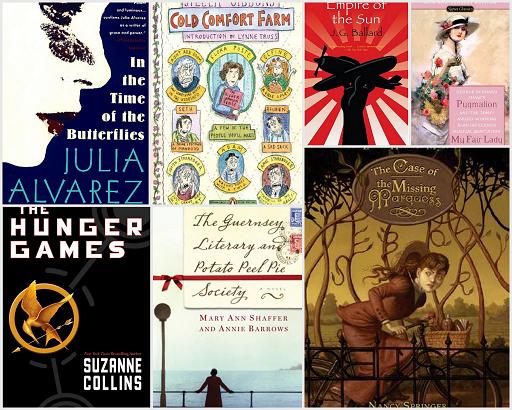 Thanks to all the excellent recommendations from my like literary-minded friends, 2009 was a year filled with good books. Here is a complete (I think…) list of books I read in 2009. I would recommend every one except #s 22, 37, 38, and 39.
Schooled by Gordon Korman
A Wrinkle in Time by Madeleine L'Engle
Home: A Memoir of My Early Years by Julie Andrews
In the Time of the Butterflies by Julia Alvarez
Cold Comfort Farm by Stella Gibbons
Lost by Sarah Prineas
Stolen by Sarah Prineas
The Creative Family by Amanda Soule by Nancy Springer
The Case of the Peculiar Pink Fan by Nancy Springer
The Case of the Cryptic Crinoline by Nancy Springer
The Case of the Missing Marquess by Nancy Springer
The Case of the Bizarre Boquets by Nancy Springer
The Case of the Left-Handed Lady by Nancy Springer
Savvy by Ingrid Law
Empire of the Sun by J.G. Ballard
Elantris by Brandon Sanderson
The City of Ember by Jeanne DuPrau
Pygmalion by George Bernard Shaw
Princess Academy by Shannon Hale
The Guernsey Literary and Potato Peel Pie Society by Mary Ann Shaffer
Ella Enchanted by Gail Carson Levine
The Actor and the Housewife by Shannon Hale
Treasure Island by Robert Louis Stevenson
Holes by Louis Sachar
Parenting with Love and Logic by Foster W. Cline
Mansfield Park by Jane Austen
Graceling by Kristin Cashore
The Mysterious Benedict Society and the Perilous Journey by Trenton Lee Stewart
Cry, the Beloved Country by Alan Paton
The Wednesday Wars by Gary Schmidt
The Book Thief by Markus Zusak
The Count of Monte Cristo by Alexandre Dumas
Rapunzel's Revenge by Dean and Shannon Hale
The Hunger Games by Suzanne Collins
The Enormous Crocodile by Roald Dahl
Fantastic Mr. Fox by Roald Dahl
I Am Morgan Le Fay: A Tale From Camelot by Nancy Springer
Wintergirls by Laurie Halse Anderson
The Lightning Thief by Rick Riordan
Here are some of the books on my list for 2010:
The Books of Bayern series by Shannon Hale
This is What I Did by Ann Dee Ellis
Catching Fire by Suzanne Collins
The Sweetness at the Bottom of the Pie by Alan Bradley
Wings by Aprilynne Pike
These Is My Words by Nancy E. Turner
Marjorie Morningstar by Herman Wouk
Atlas Shrugged by Ayn Rand
The Beekeeper's Apprentice by Laurie R. King
The Higher Power of Lucky by Susan Patron
Midwives by Chris Bojhalian
Slob by Ellen Potter
A Swift Pure Cry by Siobhan Dowd
And lots more! What's on your To-Read list this year?