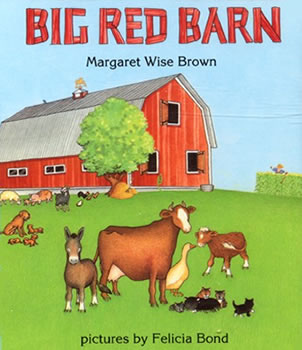 If you like Goodnight Moon, you'll love Big Red Barn by Margaret Wise Brown. It's another great classic children's picture book all about animals, the noises they make, and what they do all day on the farm! There is a rhyming pattern also, which kids love and makes the book fun to read as well.
The illustrator of this picture book, Felicia Bond, is wonderful  – she has illustrated the very popular If You Give a Mouse a Cookie series by Laura Numeroff and others in addition to this book.
Big Red Barn is another great bedtime book since it talks about what happens on the farm at the end of the day and how all the animals settle down and go to sleep in the barn – perfect for your little animals!