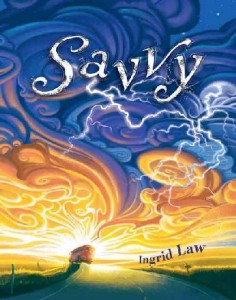 This book completely deserves the Newbery Honor award it won! I read Savvy on our road trip last month, and it was the perfect vacation book. Fun and creative, this book is perfect for all ages and while it's about a girl, it is a story for boys too!
In Savvy , the special people in the Beaumont family each receive a unique gift on their 13th birthday called a Savvy. The story begins a few days before Mibs', the main character's, 13th birthday and tells a story about being different, learning to control your talents and ablities, friendship, and lots more.
It's a quick read that is both fun and serious. I loved it!