I have one more nursery bedding tutorial to post and a few other baby sewing projects, but I'm running a little behind. So for a change of pace, it's BOOK TALK!!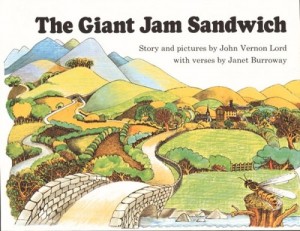 I haven't done book talk in a while, but I'm going to start up again because I love sharing my favorite books and hearing yours! Reading to kids is sooo important, starting in infancy, and there are lots of great books out there.
The Giant Jam Sandwich by John Vernon Lord was one of my childhood favorites. I had totally forgotten about it until I found it at a thrift store not too long ago. We've read it a hundred times since then!
This short story is about a small village's clever solution to getting rid of the 1 million wasps that recently flew into town. The whole book is written in rhymes, so it's lots of fun to read and is very memorable too, for you and your child! I think I could recite the whole thing from memory, and my son has his favorite parts that I hear him repeating throughout the day. His favorite line is "Bump it, Bang it about." You'll just have to read the book to see what they're bumping and banging about.
This is a fantastic book that will become a favorite in your house too. What are your favorites?