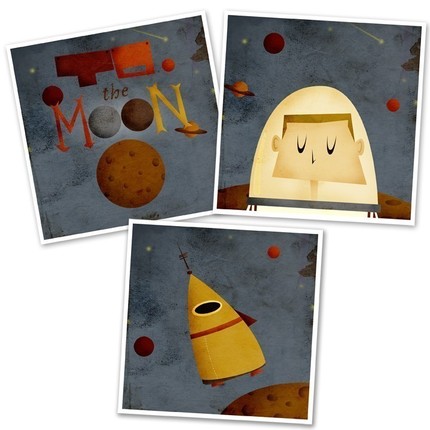 Not long after Elliot was born we got this fabulous set of "To the Moon" prints from Fall Down Tree for his room. (Check out Fall Down Tree's Etsy store – they have the most wonderful prints for kids. I especially love the dinosaur, sea creatures, and travel sets!)
I needed some more outer space stuff for his room, and I found just what I was looking for on Don't Look Now (If you click over to Don't Look Now, be prepared to see the most beautiful quilts you have ever seen. They're absolutely amazing!)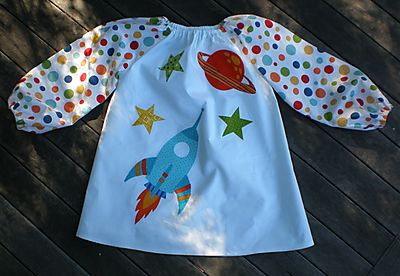 Kellie, the amazing fabric artist, kindly emailed me her rocket ship applique pattern and this is what I came up with for Elliot's room: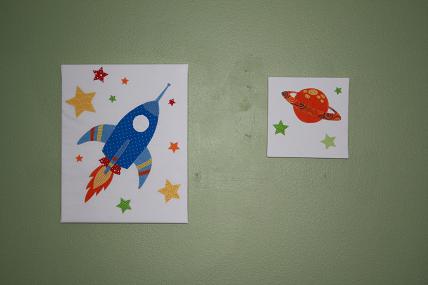 I cut out all the pieces with Heat'N'Bond fixed to the back, ironed them in place on a piece of white muslin, sewed them down, and stapled the whole piece of muslin to a canvas. This wall is small, only a little bit wider than the two pictures, and I think it still needs something. I'm thinking about trying to cut the whole design out of vinyl and do that instead, but this is what we have for now.
I loved her colors so much I decided to use them myself – the hardest part for me about quilting and other fabric projects is choosing the fabric. I have serious anxiety about it!
Anyway, Don't Look Now has so many fun things to look at, and I think you can still get her art smock and applique patterns for free by emailing her.
Any ideas on what else I could do with this wall?