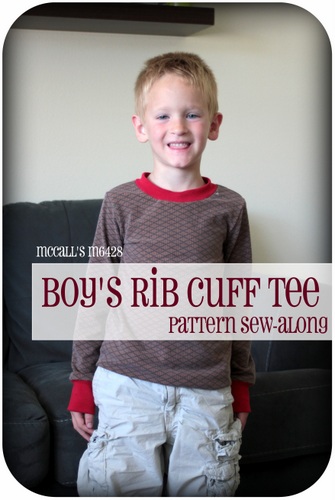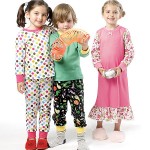 And here is shirt #3! This one is made also with one of Michael Miller's new interlock knit fabric – it's called Nordic Diamond and comes in a handful of colors. It's super soft, very stretchy and comfortable, and just really nice fabric all around. So wonderful to work with and it looks so great all made up as a shirt.
Project: Boy's Rib Cuff Tee
MATERIALS & SUPPLIES
McCall's M6428 (it's pictured as a pajama top but it works great as a play/school shirt too, it will just be a little more fitted. I would recommend choosing one size larger.)
Stretch knit fabric – see envelope for yardage (I used the coming-in-August Patty Young prints for Michael Miller)

jersey/interlock etc for shirt main
ribbing for neck band and sleeves

standard sewing supplies
**Sew all seams at 5/8″ unless otherwise instructed. I also recommend using a stretch stitch if possible.
Please excuse the awful pictures – I'm not quite sure what happened, but I have too many things on the to-do list to re-make this shirt just to get better photos…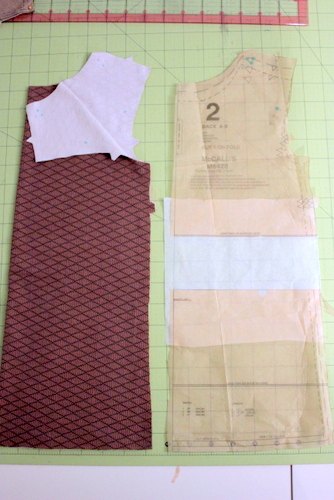 1. Cut out pattern pieces 1, 2, 3, 4, & 5.
You'll probably need to add length – I added about 3″.
2. Cut along the "lengthen/shorten here" line, tape a piece of pattern paper (I use medical exam table paper), draw a line 3″ down from the cut line and then tape the pattern to that line.
If the pattern piece is a "cut on fold" piece, trace that line all the way down so the original pattern portions line up just right. Then be sure to blend the cutting lines together – start a few inches above and stop a few inches below the disconnected portions.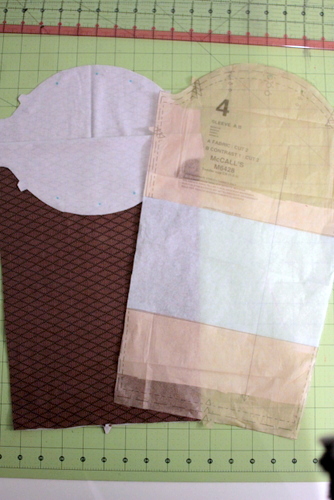 For the sleeve piece I blended the lines all the way from the very top corner to the hem.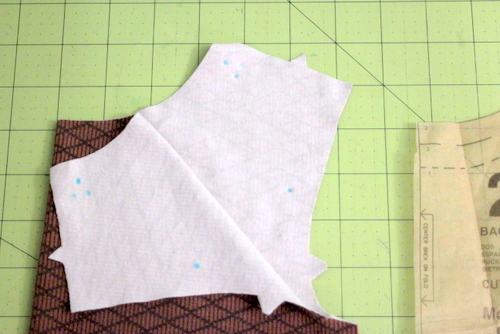 3. Transfer pattern markings onto the fabric – I find if I use an erasable fabric pen and just press long and hard on the spot that the color will bleed all the way through both layers. Just make sure the mark is visible on the wrong sides of the fabric, the wrong side is where you'll want to see the marks anyway.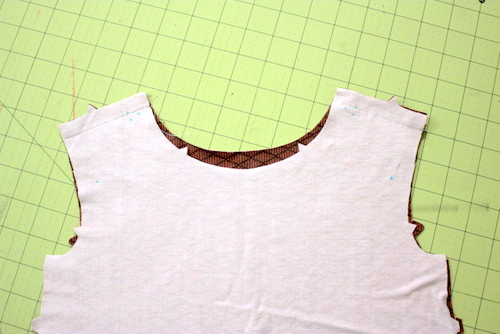 4. Sew the shoulder seams. Serge to finish, cutting off all excess seam allowance so the serge line runs right along the stitching line.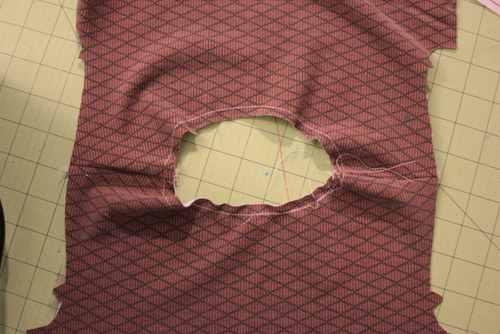 5. Staystitch around the neck using a regular straight stitch (not stretch stitch) – stitch this line at 1/2″.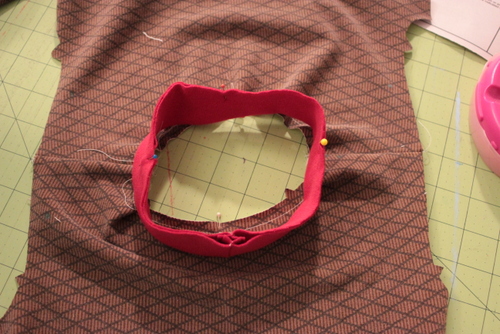 6. Sew the beck band into a tube, fold in half, and divide in fourths with pins. Also divide the neck opening into fourths – you'll only need to make two pin marks because the shoulder seams will the the third and fourth marks.
7. Line up the pins with the neck band seam in the back.
8. Stitch neck band to neck at 1/4″ and using a straight stitch first. After you've checked to see that the seam is smooth with no tucks or puckers, go over the first stitching line with a stretch stitch.
9. Pin the sleeve to the shirt at the shoulder, matching single and double notches. Sew using a stretch stitch at 5/8″. Serge seam allowance to finish.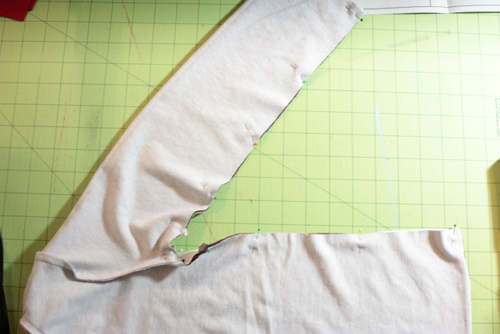 10. Sew the sleeve and side seam in one straight shot.Serge seam allowance to finish.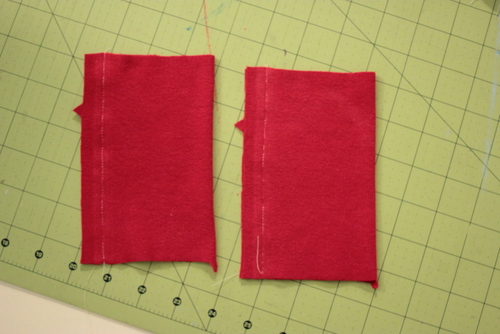 11. Sew the cuffs into tubes, matching notches.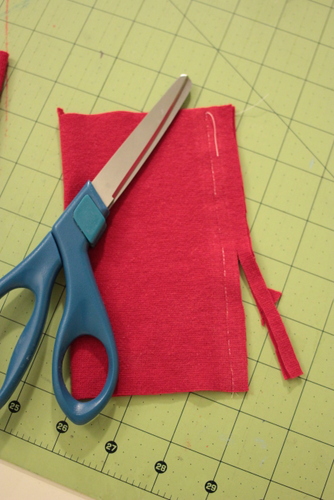 12. Trim excess seam allowance down to 1/4″.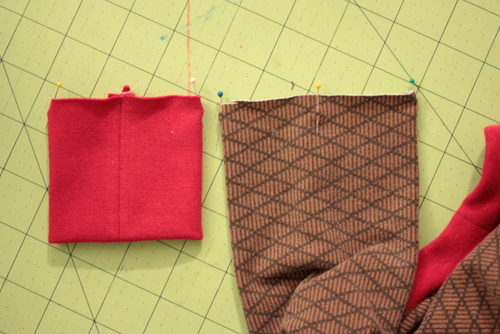 13. Fold the cuff in half so that the seam touches wrong sides together.
14. Divide both the cuff and sleeve into fourths with pins.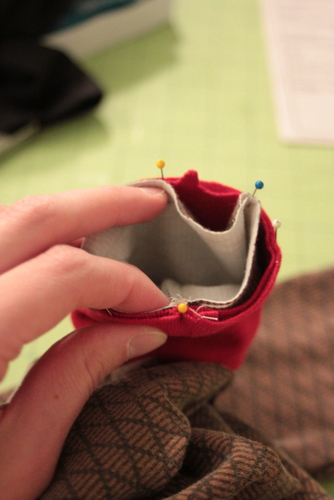 15. Match up pins, lining up the seams on the sleeve and cuff.
16. Sew using a straight stitch and a 1/4″ seam allowance. Stretch slightly as you sew so the sleeve and cuff lengths match. Try not to stretch the sleeve at all.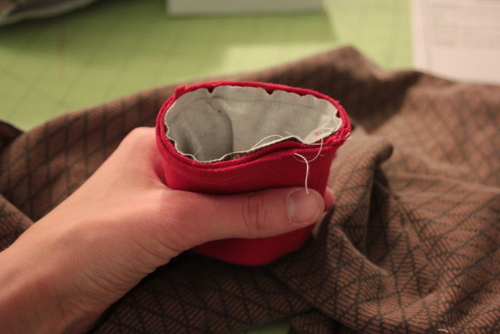 17. Serge seam allowance.
18. Hem – I serged the waist line and didn't hem yet. I'm going to wait until winter to see how much length he needs…I would hem using a double needle or regular straight stitch.
That was fast and easy – good luck!