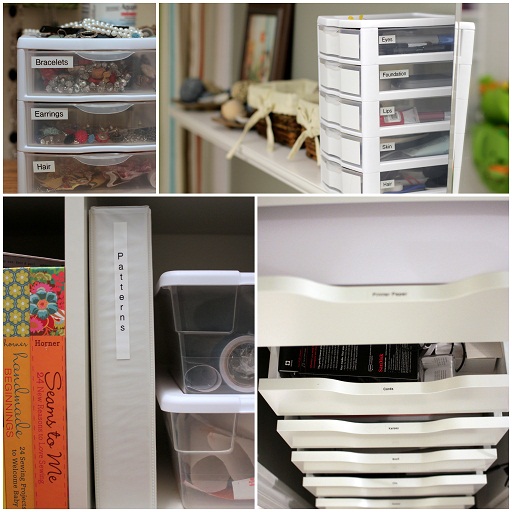 It's been about 6 months since I labeled every possible surface in my craft room with the Brother P-Touch label maker, and those labels have definitely withstood the test of time! Six months later, every single label looks just like it did the day it went on. No peeling, bubbling, fading…they still look perfect and my stuff is still staying organized. Whew!
Plus I labeled some other random things in my house – my makeup, jewelry, office drawers, and some notebooks. I use everything I labeled often and the labels still look great!
The P-Touch is a pretty heavy duty label maker with lots of different options and settings. I was initially worried that I wouldn't remember how to change the settings, but I was relieved and happy to find that after the first few uses I didn't have to think about what I was doing anymore. The layout and user options are intuitive and even though there are a lot of possible options and settings, they're easy to use and change.
Overall I am very happy with the usability and quality of the Brother P-Touch label maker. I love all the different formatting options and the finished look of the labels on all my stuff.
Thanks to Brother for sponsoring this review series!
Read Review #2: Craft Room Labeling Project
 "I wrote this review while participating in a campaign by Mom Central Consulting on behalf of Brother P-Touch and received a product and gift card to facilitate my review and a promotional item to thank me for taking the time to participate."