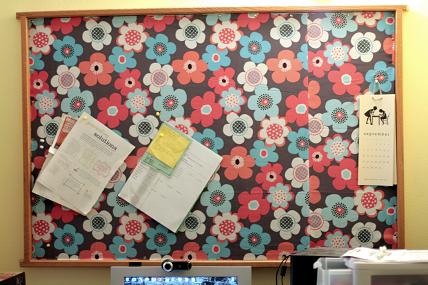 I inherited a really nice, large, wood-framed bulletin board from my parents and it sat unused in our basement for several years because the bulletin board was covered with an old green felt. Blah and blech.
I gave it a little makeover with some fabric from a local quilting shop and put it up above the computer in my office. As you can see, I don't have much on there but I love how the happy flowers brighten things up.
You can cover most anything with fabric – bulletin boards, picture frames, coffee tables, headboards. With some great fabric and a staple gun or thumb tacks, you can make anything look fresh and new.
What do you cover with fabric?