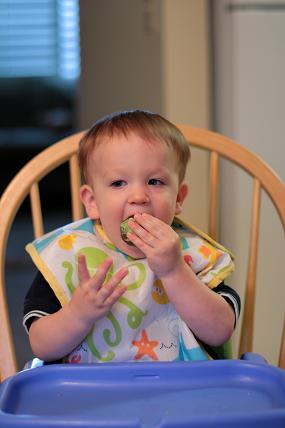 After Elliot's dinosaur birthday cake, I knew I wanted to do a caterpillar for Gus's first birthday (which was yesterday). I was sick last week and therefore didn't plan anything before 2:00 the day off so had to throw everything together at the last minute.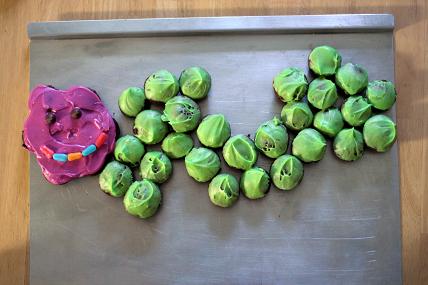 This is how it turned out, and for no planning I'm pretty happy with it. (Thank goodness for that enormous Wilton cookie sheet…)
I was thrashing around trying to find my muffin tin and decided I must have given it to DI. What was I thinking?!? Anyway, I ended up using my mini muffin tin which worked out WAY better anyway. The cupcakes were perfectly kid-sized and it took lots less time and frosting (essential since I only had 1 block of cream cheese defrosted and that was completely by accident.)
I dipped the cupcakes into the frosting instead of using a knife so they are all kind of bumpy and random. Isn't that just like a caterpillar? I think so…
Gus's 1st birthday just really snuck up on me! I made him his favorite – macaroni and cheese. Well, his favorite is the nasty store bought kind and he wouldn't eat the yummy homemade stuff. He wouldn't eat his delicious caterpillar either, so he had French toast for dinner. Bah.
Here's the recipe for the fabulous macaroni and cheese from my fabulous and talented everything friend Jenny.
Stove Top Mac n Cheese (from The Joy of Cooking Pasta)
4-6 main course servings or 8-10 side dish servings
In a large pot bring  12 c water  and 1 T salt to a rolling boil.
Add and cook just until tender – 2 c. ( 8 oz) elbow macaroni
Drain and return to the pot.
Add 4 T unsalted butter, cut into small pieces
Stir until well blended.
Add and stir together until smooth:
12 oz evaporated milk
12 oz grated extra sharp cheese
2 large eggs, lightly beaten
1 t dry mustard dissolved in water
3/4 t salt
1/2 t cayenne pepper or red pepper flakes  or to taste
Set the pot to med-low and stir constantly. Bring mixture to the first bubble of a simmer, 5-10m (should thicken noticeably).
Increase the heat slightly if it's still soupy after 5 min, but keep a close eye on it. If you have an instant read thermometer don't heat past 170 or it will curdle. Serve immediately or press plastic wrap over the top and cover with the lid until ready to eat.
Put it on the menu for this week – it's delish!