I have finally concluded that for me, the key to being (and looking) organized is using as few different types of organizational containers as possible. In other words, find a few different sizes of containers that are pretty one-size-fits-all and use them for everything.
For most things in my house, I have settled on the
Sterilite 6-qt. plastic shoe boxes ($.90 each)
Sterilite 16-qt. plastic sweater box ($2.70 each)
Here are some examples of how I use these two containers in my house: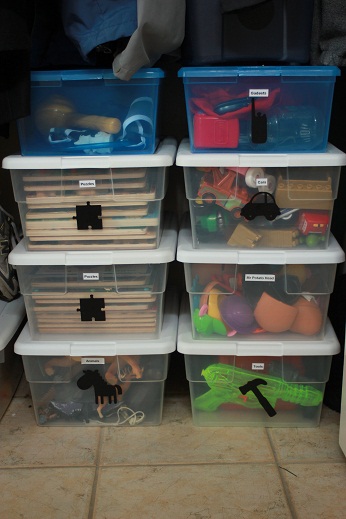 We live in a town home and have little closet space, so at the bottom of our coat closet on our main floor where we spend most of our time, I have the 16-qt. sweater boxes with bigger toys or toys that we have lots of: cars, puzzles, animals, dress up, tools, etc. I have labeled each container with an actual word label and also a vinyl picture of the contents so my small children know what toys go in which bucket.
I also use the 16-qt. boxes in my utility room for things like Play-Doh (which only gets played with at the kitchen table), cookie cutters (the utility room serves as my kitchen overflow since I don't have a pantry), tape, man tools, and other household fix-it type supplies.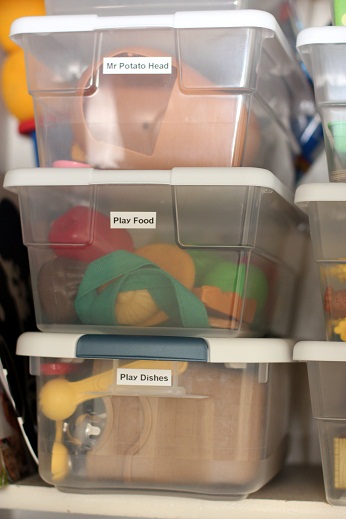 On the shelf at the top of the coat closet I have the 6-qt. shoe boxes with games and smaller sets of toys: Mr. Potato Head, play food, play dishes, playing cards, and other toddler games.
This one simple strategy has completely transformed how organized I feel. All the containers match, so I look organized. The toys get played with more since they're not all out all the time and we have less of a toy mess problem. So my house is more organized.
My next project is to transfer as many games and large puzzles as possible into the shoe boxes. I've been holding off for a long time because I have a mental block about getting rid of the original boxes, but all those different sized boxes look terribly cluttered and I know I'll be more happy with the way they all look in like containers.
What is your household organization/clutter control secret???