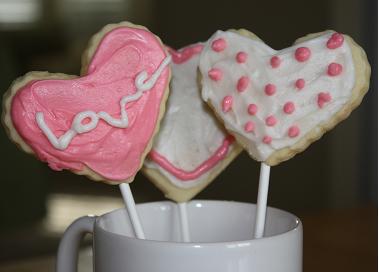 I should not have posted my pathetic attempt at baking right next to a post about the wonderful things that can be found at Cafe Johnsonia. Alas, it is the week before Valentine's day, and as is tradition, I made sugar cookies with all my wonderful new Wilton baking tools.
That huge rolling pin and silicone baking mat were an enormous help – both tools make it so you don't have to add much flour at all to keep the dough from sticking and just make the whole process easier all around. And having a gigantic cookie sheet meant that I had one and a half pans to use all my dough – that is a beautiful thing. Less waiting, more cookies… And look at all those fun heart shapes – Wilton has a fabulous variety of Valentine's cookie cutters, don't they?
Here's my favorite Sugar Cookie recipe:
2 c. butter
2 c. sugar
6 eggs
1 t. vanilla
6 c flour
2 T. baking powder
1 ½ t. salt
Refrigerate for 2 hours; Bake 8 minutes at 375 degrees.
Click here for a cream cheese frosting and butter cream frosting recipe.
And now, the secret. There are really 2 main things that make or break sugar cookies.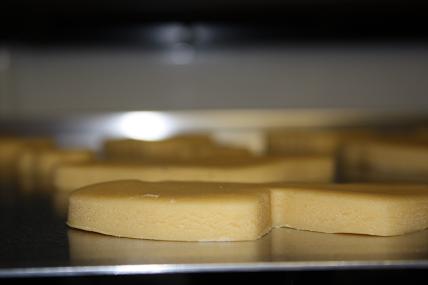 1. Thickness of the dough. Thick sugar cookies are sooo much better because they're moist and chewy rather than dry and crispy. Sugar cookies are supposed to be chewy!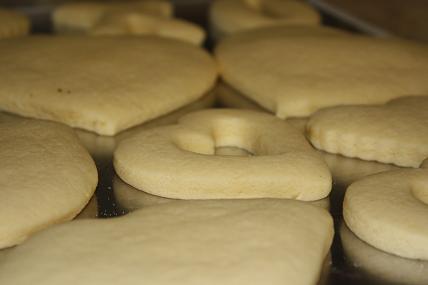 2. Baking time. Even thick dough will get crispy if you bake it too long. The second key is to bake the cookies just enough that they're not raw. Experiment yourself – I find that 8 minutes is perfect.
Do these 2 things, and your sugar cookies will be dangerous.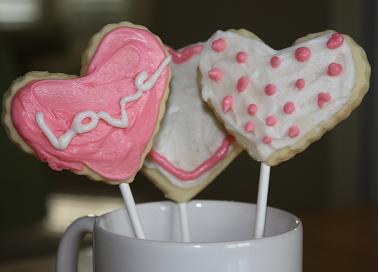 After browsing through Wilton's gallery of ideas, we decided to make some cookie pops – everybody likes to eat on a stick! They're not perfect, but they were fun to make, and my husband appreciated them. To me, sugar cookies are perfect for every occasion!
Here are some other great Valentine's dessert ideas from Wilton: