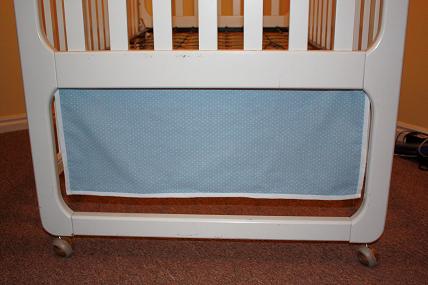 Making a crib bedskirt is the easiest of all the nursery bedding, and definitely a project fit for beginners. Because our crib is in the corner, I only made bedskirt pieces to go along two sides – only half the work! (I'll take a better picture once we replace the carpet and get everything situated in its permanent position…I'm running out of time!)
The mattress rests on some sort of platform. Measure the sides of the platform and cut strips of fabric in those lengths and about 12″ tall, or longer if you want. Then you just bind 3 of the edges with bias tape and tape it to the mattress platform.
That's it! This project couldn't be easier. Taping the bedskirt to the crib (an idea I got from J Caroline Creative) is much easier than figuring out how to make one continous piece.
If you missed the other crib bedding tutorials, here they are again:
DIY Crib Bedding Part I: Crib Bumper
DIY Crib Bedding Part II: Crib Flat Sheet
DIY Crib Bedding Part III: Crib Fitted Sheet
P.S. You also might be interested in learning how to fold a fitted sheet. Click the link to watch a quick video I made to show you how.