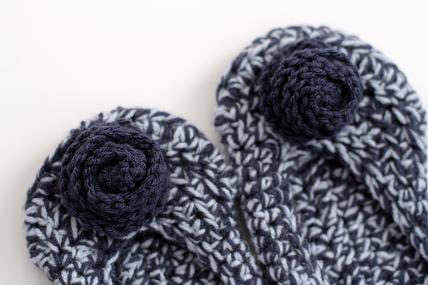 This weekend I made a pair of slippers using this fantastic pattern and crocheted a small rose to attach to the toe. I love it. Here's the pattern for the rose:
Crocheted Rosette Pattern
materials: G hook and worsted weight yarn
Ch 16.
Row 1 4 tr in 4th ch from hook, 5 tr in each ch to end.
Roll into a spiral and sew into place.
This pattern is from Nicky Epstein's Crocheted Flowers, a great book FULL of all kinds of different flower patterns. Perfect for adding little beauties to everything you crochet.
Happy Thanksgiving!