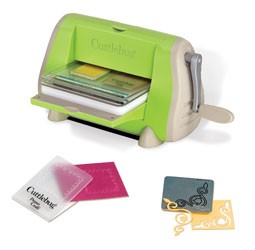 Next to the Cricut, the Cuttlebug is one of my favorite scrapbooking/cardmaking tool.
Embossing is what I use my Cuttlebug for mostly – the added texture gives each little card or page something special. And Provo Craft has bunches of beautiful embossing folders to choose from. At only a few dollars each, I want to own them all…
Another thing I love about the Cuttlebug (that I also love about the Cricut) is the way it looks. Provo Craft's machines each have a feminine and unique look about them that I just love. The Cuttlebug is so cute (green is my favorite color…), how could you resist? The design is so simple – a little handle that pulls the die through. It requires no electricity or brute force, it's so easy and safe that a child can use it, and so cute, all at the same time!
Here are some things I've done with mine: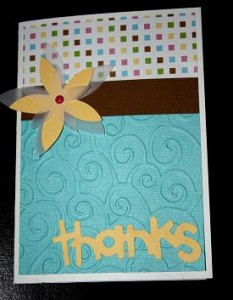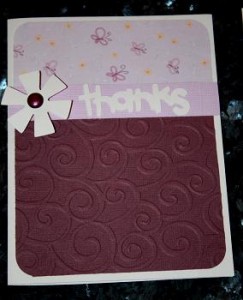 (Tools: Cuttlebug (D'Vine Swirl), Cricut (Walk in My Garden), CropADile Big Bite II, Creative Memories Corner Maker)
I like this simple layout because it lets met have a large surface available for showing off the beautiful embossed pattern. It's easy and quick to make, and I think it's pretty cute too!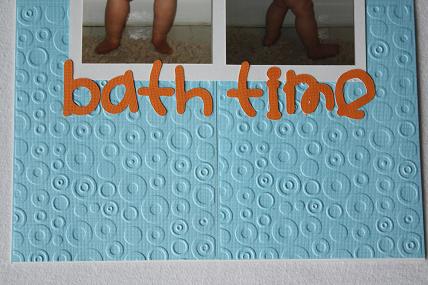 (Tools: Cuttlebug (Spots & Dots), Cricut (All Mixed Up))
And I had these adorable bath time pictures but no idea to go with it for a page until I saw this embossing folder for the Cuttlebug. If you need bubbles, this is perfect!
I took my Cuttlebug to a little card making night with some girlfriends, and it was a hit. It really is fun and easy to use and it adds a totally new dimension to your cards/pages. If you didn't get one for Valentine's Day, Mother's Day is coming up…
{Photos taken with a Canon Digital Rebel XSi}