This is my first layer cake! It is a fabulous recipe and I can't wait to enjoy this cake again on Christmas Day!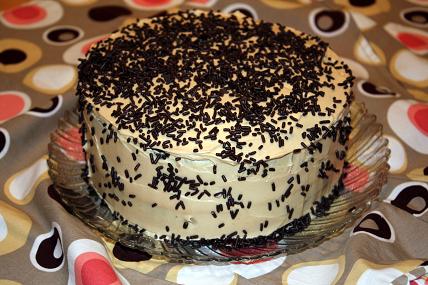 DEVIL'S FOOD CAKE
1 1/2 c. all purpose flour
1 t. baking soda
1/2 t. baking powder
1/4 t. salt
1 1/4 c. boiling water
4 oz. unsweetened chocolate, chopped
1/2 c. cocoa powder
10 T. butter, softened
1 1/2 c. packed light brown sugar
3 large eggs, room temperature
1/2 c. sour cream
1 t. vanilla
1. Grease three 8-inch cake pans and preheat the oven to 350 degrees.
2. Whisk flour, baking soda, baking powder, and salt in a large bowl and set aside. In a separate bowl, whisk boiling water, chocolate, and cocoa until smooth.
3. Beat butter and sugar together until light and fluffy, 3-6 minutes. Beat in the eggs, one at a time, until incorporated, scraping the bowl and beaters as needed. Beat in sour cream and vanilla.
4. On low, bet in 1/3 of the flour mixture. Beat in half of the chocolate mixture. Repeat wth half of the remaining flour mixture, then the remaining chocolate mixture, and finally the remaining flour mixture.
5. Give the batter one final stir using a rubber spatula. Divide batter evenly among the prepared pans and smooht the tops. Bake 15-20 minutes.
6. Let cakes cool in the pans for 10 minutes on a wire rack. Flip onto wire rack, flip capes upright, and let cool completely before frosting, 1-2 hours.
PEANUT BUTTER FROSTING
2 1/2 sticks unsalted butter, cut into chunks and softened
1 1/3 c. creamy peanut butter (don't substitute chunky)
3 T. heavy cream
2 1/2 t. vanilla
pinch salt
2 1/4 c. confectioners' sugar
1. Beat butter, peanut butter, cream, vanilla, and salt in a large bowl on medium high speed with an electric mixer until smooth, 1-2 minutes.
2. Reduce the mixer speed to medium-low, slowly add the confectioners' sugar, and beat until incorporated and smooth, 4-6 minutes. Increase mixer speed to medium-high and beat until the frosting is light and fluffy, 5-10 minutes.
This recipe is straight from The America's Test Kitchen Baking Book. Let me know what you think!