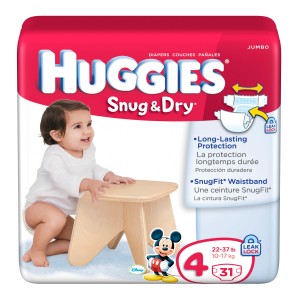 I had tried every diaper brand known to mom, except this one (not sure why…), so I jumped on the opportunity to participate in this Huggies campaign with Mom Central Consulting.
Linus is a tummy sleeper and I was getting so exasperated with the diapers I was using because he would wake up with his tummy soaked every nap time and morning. I hate extra laundry! A diaper should last through nap time for sure, night time also for sure.
We've been using Huggies Snug & Dry we have had ZERO wet onesies after nap time and another ZERO wet jammies in the morning.
Linus is a very busy and mobile 8-month-old, and our old diapers would get fuzzy, leak all the time, and even come undone. We both love Huggies because they can withstand the cruising and bruising of active, busy babies.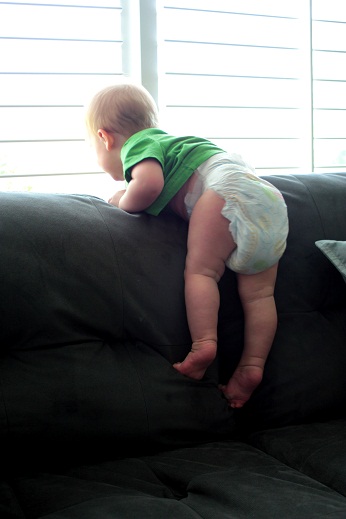 This is exactly what I'm talking about! He is a very busy and resourceful baby, and he is constantly on the move!
That Huggies diaper is snug around his waist and legs so none of that nasty wetness (or poopness) is getting out, and I'm sure you'll notice how soaked and full that diaper is on him. I let him fill it aaaalll the way up before I change it (I can't stand to throw money down the toilet, ha ha ha…) and I'm constantly impressed with how full these diapers can get.
I'm always expecting to find him leaking but those diapers have not failed me yet! He can go all day with two diapers, maybe three, and that's definitely longer than any other diaper I've tried and in the morning I don't have to change right away. I can actually get dressed and eat breakfast and feed him first. Maybe even run some errands!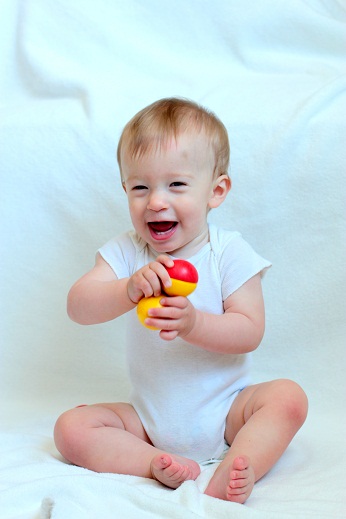 And lest you think this child has no face…here's a frontal view. I promise he's wearing a Huggies diaper underneath that onesie!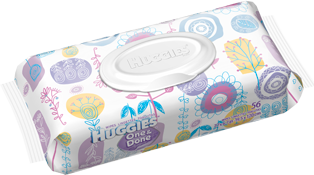 This was my first time using Huggies wipes as well, and the first thing I noticed was how thick they are! No wonder the tagline is "One and Done." These wipes are super moist, thick, and perfect for bottoms, faces, and everything in between.
We keep a package in the living room to use on diaper messes, carpet messes (they clean spit-up off the carpet like magic – they don't shred and they work wonders on the stinky spit-up smell), snack messes (even oily and chocolately ones), and playing outside messes. We use them multiple times daily for dirty feet and it's still One and Done!
Have you tried Huggies?  I'd love to hear what you think!
Thanks to Huggies and Mom Central Consulting – don't forget to Follow Huggies on Facebook to stay connected with your favorite Dipes and Wipes brand!
I participated in a campaign on behalf of Mom Central for Huggies. I received product samples to facilitate my review and a promotional item to thank me for participating.