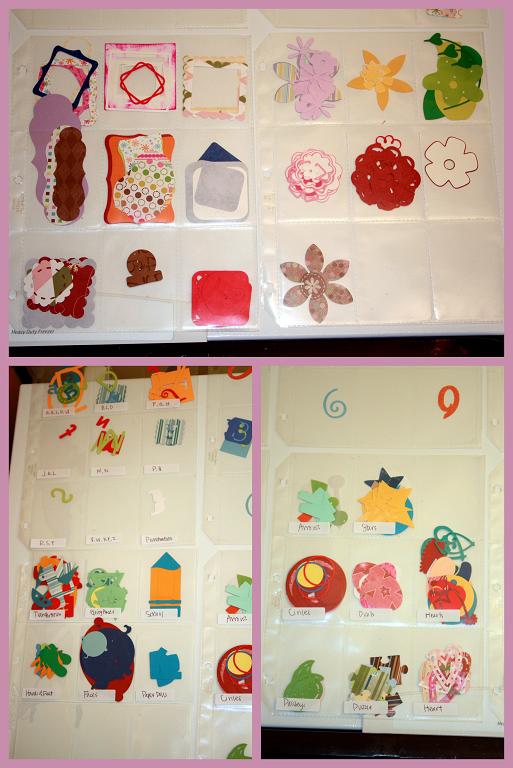 I used to keep all my extra die cut shapes in a drawer in my Minibox, and I never used them. That drawer just kept getting more and more full!
Putting your extra die cut shapes in baseball card sleeves makes using up those extras so much easier. You can organize the shapes in lots of different ways – by color, by Cricut cartridge or brand/source, etc.
I decided to organize my shapes according to more broad categories. For example, my first page is just flowers – I have all my flowers on the same page and each pocket is for a specific color of flower.
I also have a page for letters of the alphabet. There are only 9 slots, so I have vowels, BCD, FGH, JKL, MN, PQ, RST, VWXYZ, and Punctuation.
I have a whole page dedicated to  frames, another for tags, another for "Thank You" phrases, another for basic shapes (arrows, stars, circles, ovals, hearts, paisleys, puzzle pieces, and hearts).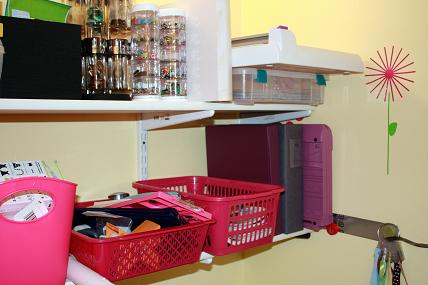 All my pages go in that purple 3 ring notebook you can see on my shelf. It's above and to the left of my desk so I can reach up and grab it easily. Flipping through these pages just makes me happy! All those bright colors and fun shapes help jump start my creativity. Sometimes I just open up my book, pick a few shapes, and start my scrapbook page that way.
How do you organize your die cuts?