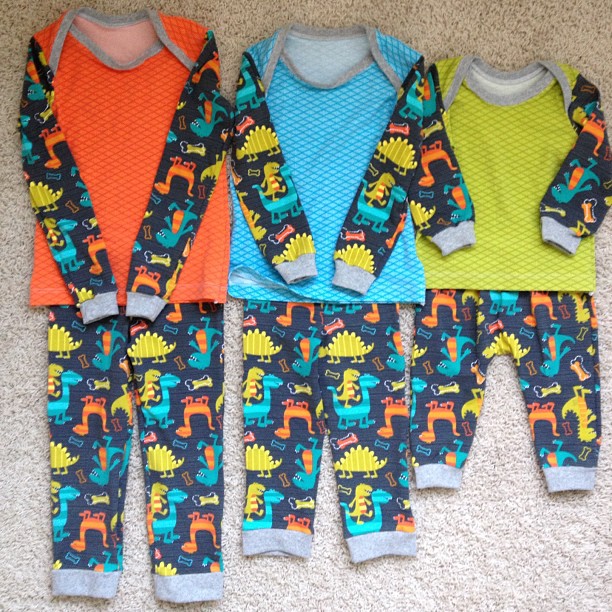 I've been so excited to get my hands on this Dino Dudes knit fabric from Michael Miller and it's so perfect for the Christmas jammies I've been planning.
The fabric is a cotton/poly/lycra blend so it's super stretchy and comfy and easy to work with. The  colors are bright and the print is so fabulous – every boy loves dinosaurs and these colors. And they did in fact get finished before Christmas – I actually finished ahead of schedule (i.e. before 8am Christmas morning…) and had to wait several days to see these adorable things on my boys!
Best of all the colors go perfectly with the knits from Patty Young's summer line so all three of my boys got Dino jammies with a pop of their favorite color.
Also. I figured out a few things about sewing with knits that made these jammies go much smoother and turn out so much better!
Buy and use a Ballpoint Twin Needle. There is no way around it and they do not sell them at JoAnn so be prepared to pay a whole $5 for it at a real fabric store.
Invest in a good sewing pattern. I'll tell you what I used, keep reading!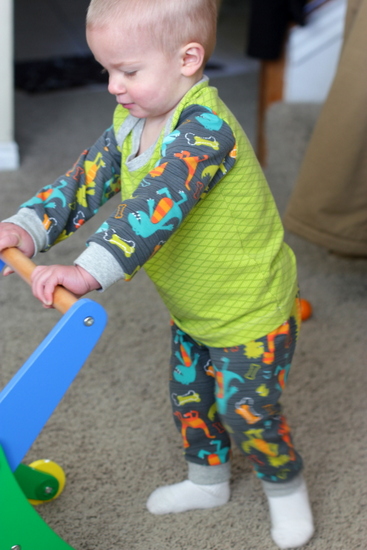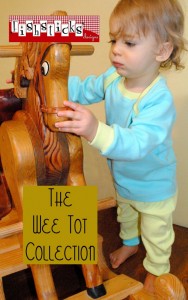 For Linus's jammie I used the Wee Tot Collection pattern created by Bonnie of Fishsticks Designs – it's a FABULOUS pattern with full color pictures and detailed instructions. The pattern can be purchased as a PDF file so you can print and get started right away. (Or you can order a paper pattern if that suits you better…)
The fit of these jammies is right on. The envelope neck on the tee is perfect – it doesn't gape or hang weird, it is just right and was so easy to sew!
And the pants are perfect too – just the right length and roomy enough for baby bottom PLUS a bulky diaper.
Lastly, the cuffs look great. I've used patterns where the cuffs are waaaay too big so the shirt/pants aren't tight around the arms/legs OR the cuff is too small so the shirt is bunchy and tucked where it's sewed to the cuff.
Both are equally bad and frustrating.
This pattern had the perfect proportion of sleeve to cuff and I was sooo happy with how they turned out! They look and fit like a professional made garment and were totally worth my time to make. Investing in a good pattern means a less frustrating sewing experience and a more satisfying result every time.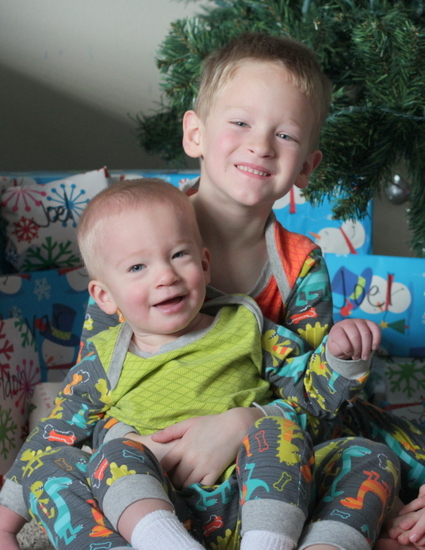 Handmade jammies were the perfect way to begin and end Christmas this year!
{Thanks to Fishsticks Designs for sponsoring today's post and be sure to check out her high quality sewing patterns for boys!}