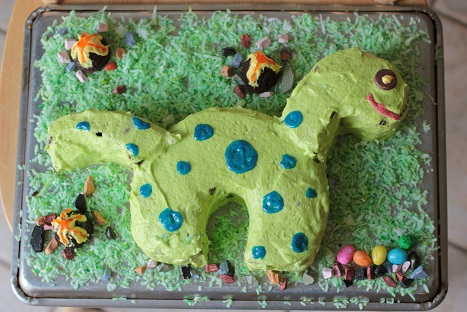 Now do you believe me when I say I'm no artist?
I've said it before, I am creative but not artistic. Here's the proof.
The dinosaur looks a little scary (because I'm no artist) but my 4 year old thought it was the best thing ever for his birthday. Mission accomplished.
The Best Frosting I've Ever Tasted was delicious, but kind of a disaster to try to cover a dinosaur with.
Aside from the dinosaur, I was pretty happy with the coconut grass, chocolate rocks (Winco also rocks), and the brownie volcanoes.
About those brownie volcanoes:
I love them!
I got this idea from Wilton's Brownie Fun magazine and used the Wilton brownie pop 8-cavity silicone mold, plus some Wilton icing, and those perfect chocolate rocks from Winco. (If you don't live in the northwestern US, you are probably a stranger to Winco, and that's a shame because they have things like chocolate rocks IN BULK.)
Anyway, Elliot loved it and I'm going to be working on my icing technique so maybe next year's cake can be decent. I think last year's dinosaur cake may have even been better than this one…so I'm getting less artistic with time. Great.
What kind of fun birthday themes do you have planned for this year???