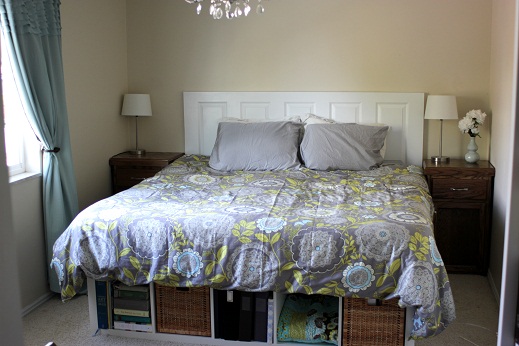 Well folks, after 7 years of marriage, we finally have real bedroom furniture.
We FINALLY upgraded from a mattress on box springs on metal frames to this!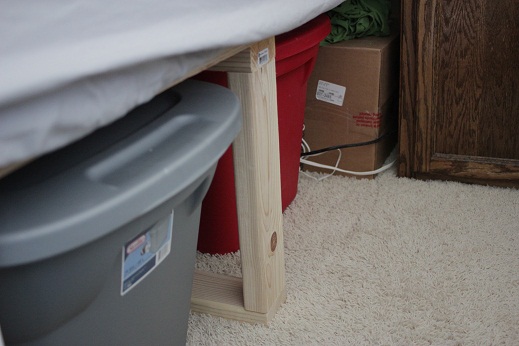 My dad, woodworking genius, built us a very simple platform with two supports (made from 2x4s) at the head and in the middle of the bed so we could use an this IKEA Expedit shelf at the foot with a plywood platform.
[Click here if you want to become a master woodworker too!]
He built the supports exactly as tall as the Expedit shelf so the plywood platform would rest evenly on all three supports.
I LOVE how the Expedit looks at the foot of my bed and all the extra storage is so fabulous. Plus, my dad spaced out the supports so that I could fit 12 – 18 gallon tubs under there. Holy tons of storage!!! (Daddy-O also built those beautiful night stands. He really is brilliant with wood!)
Because our room is long and narrow you can't see the sides at all, but I did make a bed skirt to cover all of that glorious (slightly unsightly) storage.
That headboard is a door. Of course. I ordered it special from Home Depot ($39), primed and painted it, and there she sits.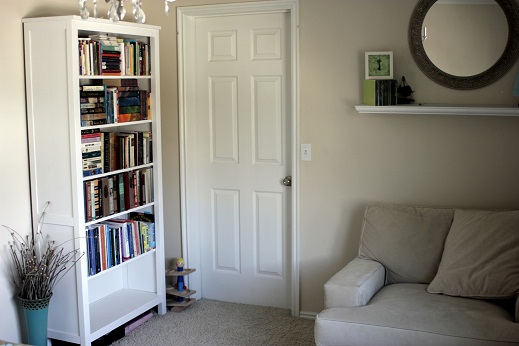 We also got an IKEA Hemnes Bookcase – it's my favorite series besides Expedit at IKEA and I want this, this, this, and and this to complete our collection. (I left the bottom shelf empty and am going to add baskets as soon as I can find some the right size.)
I love the Hemnes collection because it looks a little more classic and also because it has lots of great add-ons for the bookcases just like the Expedit series. You can get a basic bookcase or add glass doors or drawers. So many beautiful possibilities, and I need one of them to display all my quilts.
So basically…I feel like a real adult now. A real woman with real bedroom furniture. IKEA to my rescue, once again.
Now Sister IKEA and I have big plans for our closets, linens, and TV/media mess…