I was just waiting to find the perfect fabric to do this project, and I found it! Here's how to make your own car seat cover:
(But first, if you are a sewing beginner and need help, I recommend this sewing ebook.)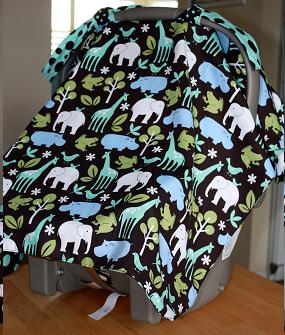 Supplies and Materials
1 yard each of two coordinating fabrics
6″ of a third coordinating fabric
2 1/2″ of a fourth coordinating fabric
Car Seat Cover Instructions

Cut the 2 main fabric pieces to be about 41″ x 36″. Round the corners.
Sew right sides together leaving a little space for turning. Notch corners, press seams open.
Turn right side out and press edges.
Edgestitch around the entire thing.
Fold the third and fourth coordinating fabric pieces in half and cut off the fold so you have 4 pieces (2 of each fabric).
For the 6″ strap, press in half (picture 2) and then fold the raw edge in to the center and press (picture 3).
For the 2 1/2″ strap, press the edges to the center. I used a bias tape maker to get the first fold (picture 4) and then pressed the other edge to meet (picture 6).

With the raw edges of the wider strap facing up and the raw edges of the narrow strap facing down, lay the narrow strap on top of the wide one and top stitch into place, tucking the ends inside and edge stitching the ends.
Sew the straps onto the main piece.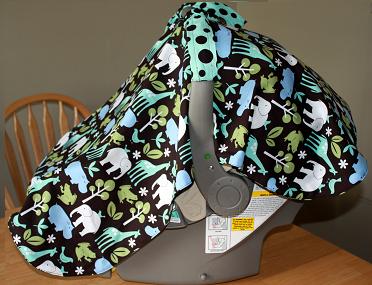 Cutting out the fabric for this project is actually more time consuming than sewing it together. The sewing is super easy and anyone can do it! These car seat covers are great for winter or summer weather, can double as a blanket, and are just so precious! Enjoy!
Once again, if you need sewing help then get the sewing 101 ebook here.