Making crib sheets yourself (if the fabric is super on sale) is much cheaper than buying, and you can get whatever kind of print you want to match your decor. Maybe most people don't put a flat sheet on their child's crib, but it's a nice light layer for summer and a cozy layer for winter.
Making your own crib flat sheets is easy – here's how:
Materials
1 5/8 yards of flannel or cotton fabric
Instructions
Prewash fabric and straighten out the ends
Baste around all 4 edges at 3/4″
Finish edges (clean finish, serge, zigzag, etc.)
Miter 4 corners
Press seam down along the basted edge and edgestitch using regular needle or double needle
How to Miter Corners
The corners are the trickiest part, but once you learn how to miter, you'll always have perfect square corners. I marked my corners with colored pencil to help me explain – you don't need to do that.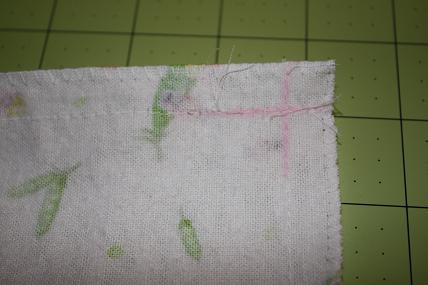 Choose a corner to start with. The two seams should make a 90 degree angle.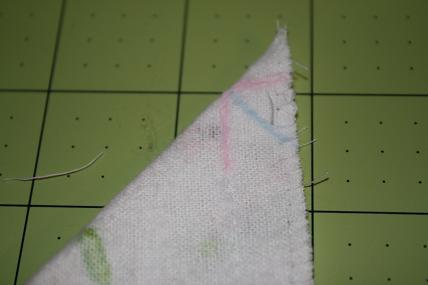 Fold the fabric so that the two adjacent edges are on top of each other, right sides together. Draw a line or visualize a line that bisects the 90 degree angle that your seams make.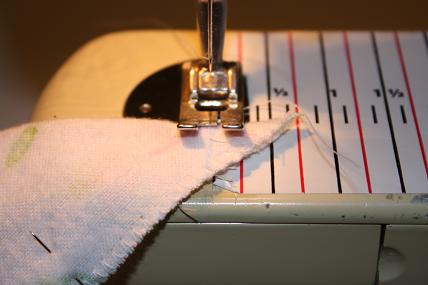 Miter the corner by sewing along that 45 degree bisecting line. Trim the corner off about 1/8″ from the seam you just sewed and turn inside out.
Repeat this process for all four corners. Now that the corners are finished, you can pin down the sides and sew to finish.
Other Easy Sewing Projects
1. Pillowcase
2. Hobo Bag
3. Burp Cloths