Our new office is a long rectangular room perfect for a long desk and plenty of storage cabinets. I wanted to do a desk the full 15′ length of the room, so we made our own using unfinished oak kitchen cabinets from Home Depot.

We used two 18″ kitchen base drawer cabinets for sewing and art supplies and a drawer/cupboard cabinet to house the computer tower and cords.
We had to cut off the toe kick portion of the cabinet so it would be table instead of counter height, which was no problem.
I've always wanted to try out one of these wall stencils, and this small project was the perfect experiment. I got this stencil from Cutting Edge Stencils, and they have so many to choose from – geometric allover, moroccan, damask, flower/vine, nursery, ceiling medallions, classical, border/stripe and holiday stencils.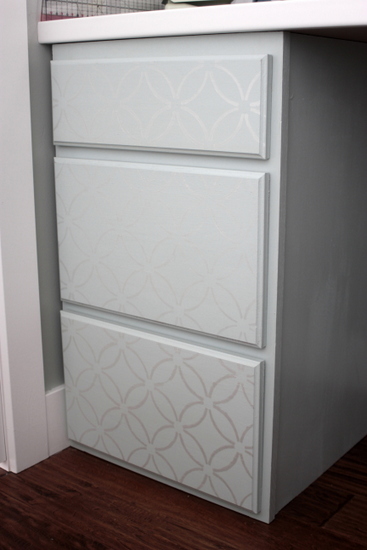 I chose the Fuji stencil pattern to do the fronts of the cabinets, and I LOVE how they turned out.
I used Benjamin Moore's Woodlawn Blue (Glidden Duo, semi-gloss) for the base coat and did the stencil with Martha Stewart's pearl acrylic craft paint in mother of pearl. After I painted and stenciled, I covered the whole thing with a water based polyurethane to make it glossy and stain/scratch resistant. So far so good!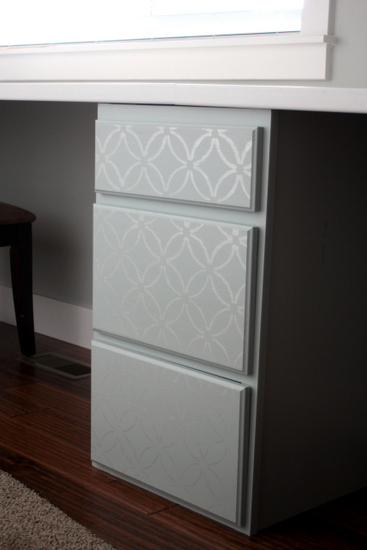 These cabinets were the perfect first small project to test out the stencil and see how comfortable/successful I was with it, and I am definitely going to try something bigger, maybe our master bathroom walls. I'm thinking maybe Zamira or Marrakech Trellis stencil designs, but I love so many of them it's hard to choose.
Having all the right tools makes a huge difference – if you're interested in trying to do your own wall stenciling, get the clip on level to make sure your design goes on the wall straight and the small dense foam roller for the best coverage results. And be sure to watch some instructional videos before you get started!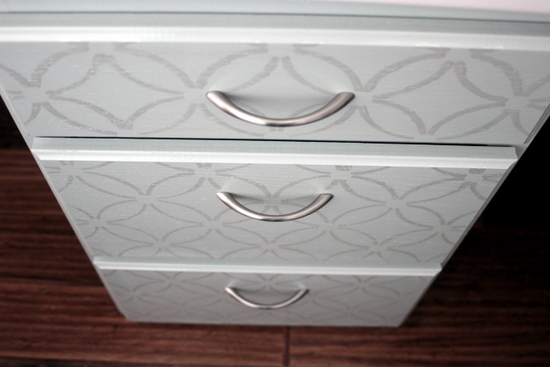 Just last night we finished them off with some hardware. They look better than I had hoped!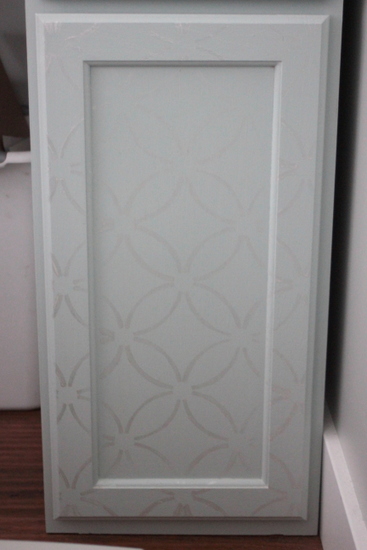 I stenciled the flat drawer fronts and the one recessed panel door, which was a little trickier and required an extra set of hands, but it turned out great!
The stencils are strong and thick but also flexible, allowing for painting around curves and into corners. They wash easily and can be reused over and over again.
I love how stencils allow DIYers to get a beautiful wall paper, patterned look for so much less using just a stencil and paint, and Cutting Edge Stencils are perfect for the job. Check them out and choose your first stenciling project!
{This post was sponsored by Cutting Edge Stencils. The Fuji stencil was provided to VanillaJoy.com for review purposes.}