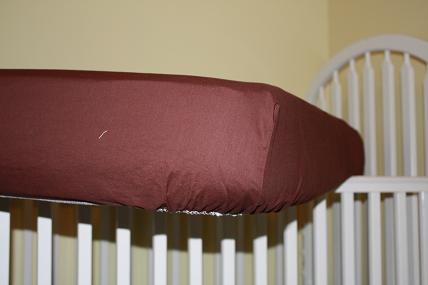 I finally found some fabric! This was only cheap enough for me because it was just under 2 yards, so the second almost-yard was 75% off. I love when that happens!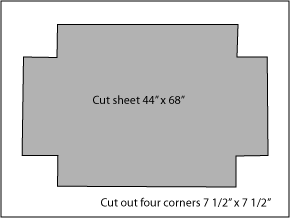 I used the instructions from J Caroline Creative, only I didn't have quite 68″ in length (because they cut fabric sooo crooked! A huge pet peeve of mine, by the way…). I was worried it wouldn't tuck under enough, but it's fine.
A few of my own tips:
When sewing the corners together, start at the edge and sew into the middle. If you go the other way, the edges might not match up exactly.
Serge the edges before putting the elastic in (fairly obvious…)
When sewing the elastic into the corners, use a serpentine/zigzag stitch, one where the zigzag is made up of several smaller stitches rather than just one.
Also when sewing the elastic, start in the center and sew out towards the edge.
And I haven't had much experience using elastic, so I thought a little video tutorial on how to sew the elastic in the corners would be helpful.
Enjoy!
P.S. If you are interested in learning how to fold a fitted sheet, I made a quick video for you showing you how.