I know I've posted about making toddler ties before, but I just made another 10 for my boys and had to post again! They are so fast, probably about 20 minutes to make one, start to finish.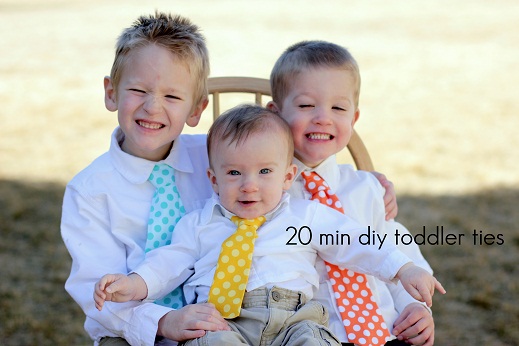 I used some Michael Miller Ta Dot fabric to make these three new ones just for Easter Sunday. Take that, frilly Easter dresses! Boys can be festive too!
These ties are seriously so easy and would make an excellent first sewing project if that's where you are. I used this tutorial and her pattern (found on Pinterest) and it's perfect.
I've tried a few different ways to finish the ties – the first time I did elastic and that worked pretty well for my baby but it was a little too tight going over the older boys heads, so this time I put velcro on the ends and attached it that way. I like elastic better, but the velcro works.
If you are going to try elastic, cut the white part that goes around the neck about 1″ away from the actual colored tie part and use elastic for the rest. You have to have as much elastic as possible so it will fit around their head but still be snug around their shirt collar.
Happy Monday!