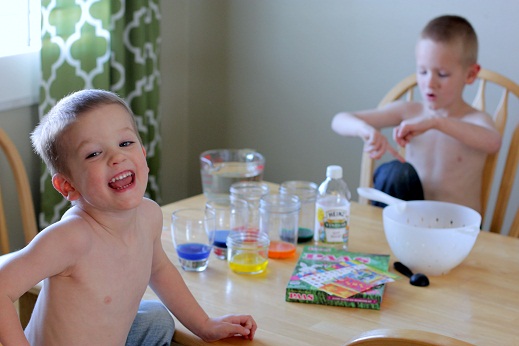 I have one very vague memory of dying Easter eggs as a kid, and I'm positive that even 20 years ago we used a Paas kit. I remember the bright colors and that little wire egg spoon thing, which I thought was the coolest thing ever.
When I decided it was finally time to introduce my own children to this tradition, we got another Paas kit and some Heinz vinegar and went to work!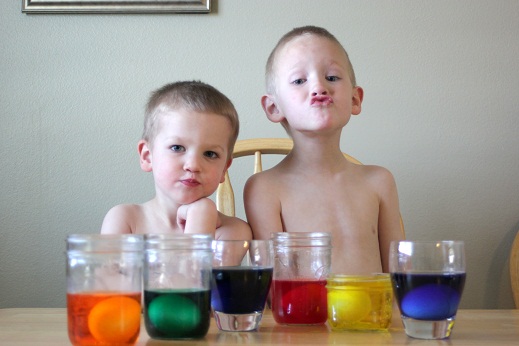 We did some basic dying for our first time – I had nap time to get this all done and cleaned up, and I didn't want to give my boys enough time with the dye to stain the entire dining room…so we opted for the bolder colors using the vinegar and dyed some very beautiful and simple eggs.
Honestly I was a little nervous…I see all these beautiful and complex looking eggs, I thought the whole process would be complicated and time consuming. Wrong!
The Paas kit has all the instructions you need (except for how to boil eggs, which I had to Google. I do not like boiled eggs) right on the back of the box.
Dissolve tablet in 3 T. vinegar (for bold colored eggs) – my boys loved watching the dye tablet fizzle!
Add 1/2 c. water
Dunk egg and wait for the magic to happen
So easy!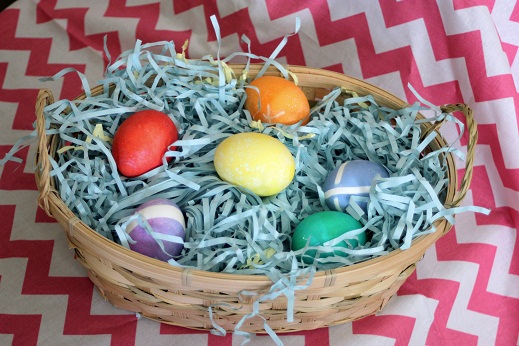 We dyed one egg in every color – orange, green, purple, red, yellow, and blue, and we have three extra tablets left over to use this week.
We each got two eggs to dye, and I put some rubber bands around mine to see what kind of effect that would have, and I love how they turned out! Gus and Elliot were so antsy to drop those eggs in the dye they just couldn't wait long enough to do some pre-decorating. But the eggs do have some color variation and some spider web effects, so they are thrilled!
They loved the bright colors and the satisfying plunk of dropping the egg in the dye, and I loved watching their excitement and anticipation. I don't know why I waited 5 years to do this with my kids – we'll definitely be dying Paas Easter eggs every year!
______________________________
Paas kits can be purchased inexpensively (for between $3 and $6) at most major grocery, drug, and general merchandise stores and this year they have 8 new kits.
This year, PAAS Easter Egg Dyeing Kits and Heinz Vinegar have teamed up to create a free, "Egg Decorator" iPad app. For every person who dyes and shares an egg, PAAS and Heinz will donate $1 to the Make-A-Wish Foundation, up to $25,000.
Download the free "Egg Decorator iPad App
HAPPY EASTER!
"I wrote this review while participating in a blog tour campaign by Mom Central Consulting on behalf of Heinz and PAAS and received a Heinz Vinegar bottle, a PAAS Egg Dyeing Kit, and a promotional item to thank me for taking the time to participate."