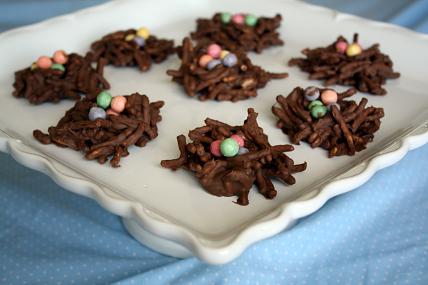 Here's a fun and super easy kitchen craft/treat you can make this week for Easter! With just a few ingredients, you can make delicious little chocolate birds' nests.
Chocolate Birds' Nests
1 bag chocolate chips
Chow mein noodles
Easter candy
1. Melt chocolate chips in the microwave in 30 second intervals.
2. Stir chow mein noodles into chocolate.
3. Spoon onto wax paper, making a little well in the center.
4. Place Easter candy (I used chewy sour Sweetarts but you can use Jordan almonds or other chocolate egg candy) in the "nest".
5. Let sit until hardened.
This is another great find in the Holiday/Easter craft section of Better Homes & Gardens. So easy, quick, and tasty!
{photo taken with a Canon Rebel XSi}