I love to use this muffin recipe and make mini loafs. This recipe from the America's Test Kitchen Baking Book is THE BEST recipe I have come across, so here you go!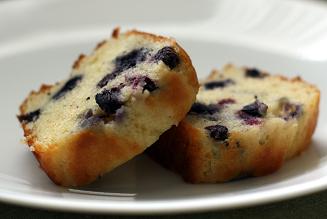 Blueberry Muffin Bread Recipe
3 c. all-purpose flour
1 c. sugar
1 T. baking powder
1/2 t. baking soda
1/2 t. salt
1 1/2 c. whole or low-fat plain yogurt
2 large eggs
8 T. unsalted butter, melted and cooled
1 1/2 c. frozen berries.
1. Preheat oven to 375 and grease 4 mini bread pans.
2. Whisk flour, sugar, baking powder, baking soda, and salt together. In another bowl whisk yogurt and eggs together until smooth. Gently fold yogurt mixture into flour mixture until just combined, then fold in melted butter.
3. Toss berries with 1 T. flour and gently fold into batter.
3. Portion the batter into the bread pans. Bake until golden brown, about 30 – 35 minutes.
Happy Baking!