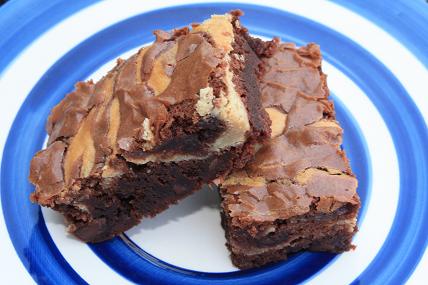 Peanut Butter Swirl Brownies
Peanut Butter Swirl
1 c. peanut butter chips
6 oz. cream cheese, softened
1/2 c. sugar
2 eggs
Brownies
1 box Betty Crocker Supreme Chocolate Chunk Brownie mix
3 T water
1/2 c. vegetable oil
2 eggs
1. Heat oven to 350. Grease 13×9 inch pan.
2. Microwave PB chips 30 seconds, stir until chips are melted. Stir in cream cheese, sugar, and eggs until smooth. Set aside.
3. In another bowl, stir brownie mix, water, oil, and 2 eggs until well blended. Spread 2/3 in pan. Spread PB mixture over batter. Drop remaining batter by spoonfuls onto PB mixture; swirl with spatula or knice.
4. Bake 30-34 minutes. Cool completely.
I changed the original recipe a bit – I doubled the Peanut Butter Swirl portion after making it once and wanting more peanut butter! It's lots better with more swirl. And rather than use the special brownie mix I just used a regular brownie mix and added some chocolate chips. The original recipe was good, but these changes made it even better!