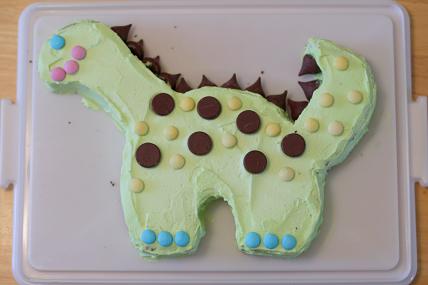 Since we've been spending so much time at Thanksgiving Point's Museum of Ancient Life, Elliot is totally into dinosaurs and so we've been planning on having dinosaur birthday cake for a while. I love how it turned out, and it was super easy to make.
Here are some basic instructions:
Using a chocolate cake mix, bake 2 – 8″ round cakes. (I used my Wilton Ultra Gold pans and my cakes were perfect!)
Let cool in the pans for 10 minutes.
Let cool on a cooling rack for an hour.
Cut the tops off with a bread knife to even them out.
Cut 1″ off the bottom of one cake and cut out a U shape to make the legs.
Cut the head and tail from the second round cake.
Put the three pieces together in the dinosaur shape.
Freeze the cakes for a couple hours.
Make up some vanilla frosting and color it green (or your favorite dinosaur color).
Frost the top and sides.
Make spikes along the dinosaurs back with Kisses and decorate the rest with Kisses and other chocolate candies.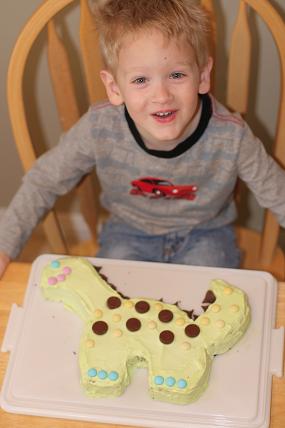 Dinosaur cake was a huge hit for Elliot's birthday this year. As I am not very artistic, I might be talking Elliot into dinosaur cakes for the next few years or at least until I can come up with something else this cute and easy!
Happy cake eating!