Elliot is almost 3 and he's now starting to be really interested in what we call "projects." But they have to be simple, so here are some good simple Valentine's crafts for your toddlers!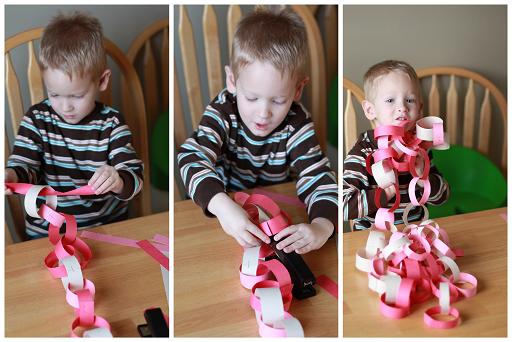 A paper chain is always a good idea! Use white, pink, and red construction paper cut into 1/2″ – 1″ wide strips. The stapler isn't too dangerous with a little supervision.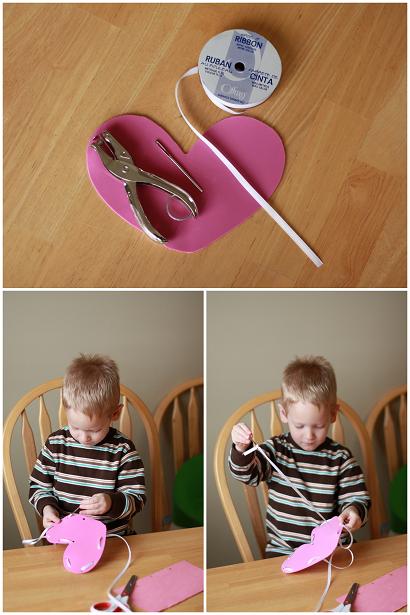 Lacing cards are also another great decoration and activity for toddlers. Using craft foam, a yard needle, a hole punch, and ribbon, you can make a lacing card to reuse or decorate it and give it away as a valentine.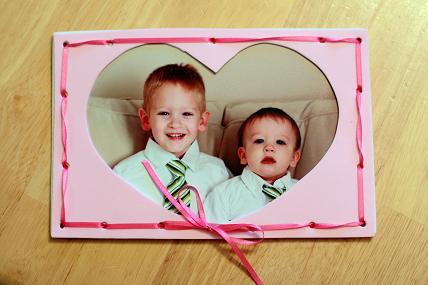 Again, using craft foam, ribbon, a hole punch, and a yard needle, make a valentine. Insert your favorite picture and grandma will love it! I punched holes through 2 sheets of craft foam and Elliot helped me decorate with ribbon. A 5×7 picture fits perfectly inside. (Their matching ties are from MyFavoritePal.com. So cute!)
If you need ideas for holiday crafts, the Toddler Busy Book series is FABULOUS. It's my go to every time we need something to do.
Enjoy!