"I participated in an Influencer Activation on behalf of Influence Central for AVEENO® Eczema Therapy. I received product samples as well as a promotional item to thank me for my participation."
Fall and winter in the dry, desert state of Utah usually brings on the crocodile skin for me. There are a lot of things I dislike about colder, drier weather, but dry skin is at the top of the list so I'm trying something new this fall: AVEENO Eczema Therapy Moisturizing Cream.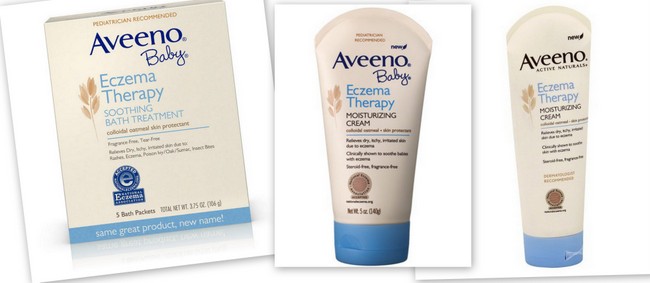 It's made with colloidal oatmeal to relieve dry, itchy, irritated skin, especially skin that is irritable due to eczema. It's steroid-free, fragrance-free, hypoallergenic, and was developed with and recommended by dermatologists. It's creamy and provides intense moisture to really get into the skin and soothe it.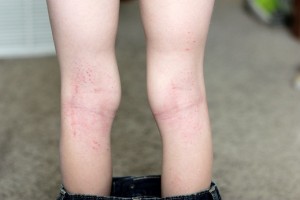 Not only is my skin very dry in the winter, but my kids also suffer as well. (The photo at the left shows what my sons legs looked like last winter.) We have some prescription medication for when it gets really bad, but I and they both hate to use it. So far we have been able to treat their itchy, rough, dry, irritated skin with this Eczema Therapy lotion – it's so much more gentle and safe than a medication and totally approved for use on babies and children with no chemicals, side effects, or risks.
My kids don't mind a little lotion massage each night before they go to bed where they HATED the prescription stuff. I'm thinking we might just be able to get away with using lotion all winter long if we're consistent, it's that good! Symptoms can be managed by implementing a regular regimen, and AVEENO Eczema Therapy lotion has helped us curb the symptoms before they get out of control.
I didn't know that more than 30 million people in the United States live with eczema or that this month is National Eczema Awareness Month. Unless you've experienced eczema personally or vicariously through a child or other family member, you might not know how uncomfortable and sometimes debilitating severely dry skin can be. It has kept my kids from sleeping at night and been a constant irritation during the day.
If someone you know and love suffers from eczema or other symptoms of dry skin, tell them about AVEENO. It's an inexpensive and fantastic lotion that I'm sure will give them relief.
Management of dry skin is key and daily use of this gentle, effective lotion is an easy solution for both adults and children. Try it and let me know what you think!