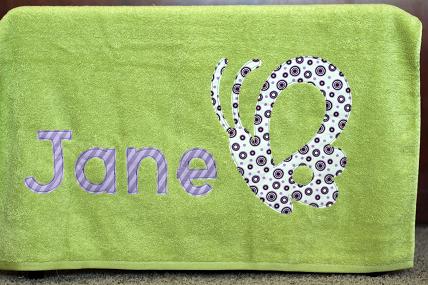 You know how I love to embellish towels…this is one I did recently for  a baby shower gift. I've also done this, and this, this, and this. And these are really fun and cute for babies and kids, but what about for your bathroom?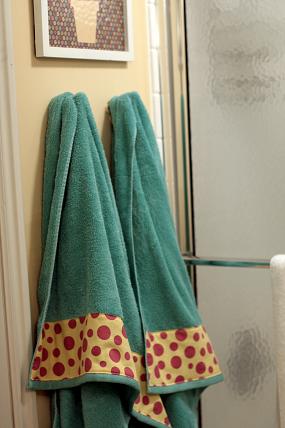 You can do anything with bath towels and fabric. For my two regular size bath towels, I
cut two rectangles of my fashion fabric (about 5″ x 30.5″),
pressed down 1/4″ on each side,
pinned the fabric to the towel so that the bottom edge of my fashion fabric was just above the finished edge of the towel,
and edge stitched all the way around, being careful not to stretch as you go.
I did a bath towel too, so now all my towels match my bathroom a little better and are so much cuter! You could also add
jumbo rick rack
cotton lace
ribbon
applique
embroidery
I finished these in an evening and that bathroom has taken another step in the right direction!
Happy crafting!